Revo Uninstaller 2.4.4
(54 votes, average: 5 out of 5, rated)
Revo Uninstaller 2.4.4 Download for Windows 11, 10, 8, 7 (64 or 32) bit PC. Free download the latest version 2023 of the software from NearFile.
Technical Details
App Information
App Name
Revo Uninstaller
VirusTotal Hash Code
b522f365240ff66d374f7a1f2acd685a12c2f3e41928838217f18aaa8a1d1335
Operating System
Windows 7 / Windows 8 / Windows 10 / Windows 11
Date Published
28, October 2021
Date Modified
29, March 2023
About
Revo Uninstaller free download for PC Windows (10/8/7/11)
While many might not need an external uninstaller on their Windows system, it can significantly elevate the application removal process. Especially if you have the Revo Uninstaller.

Now, you might be thinking. "What is Revo Uninstaller used for?"
This software is just an uninstaller for Windows systems that helps you to uninstall every single file regarding a certain application. It can even uninstall applications that can't be uninstalled via the Windows "Programs & Features" option.
So, having an uninstaller like Revo Uninstaller is definitely a plus point. However, there's always more than meets the eye. Take a good look at the features section to know more about this application.
What are the Features of Revo Uninstaller?
The most highlighted features of Revo Uninstaller are definitely the forced uninstallation, cleaning tools, hunter mode, etc. Here are all the details about the features-
Fast Uninstallation
Revo Uninstaller provides multiple uninstallation options such as quick uninstallation, batch/multiple uninstall, and forced uninstall. These features can come in handy whenever you're unable to remove any application through the standard Windows uninstall process.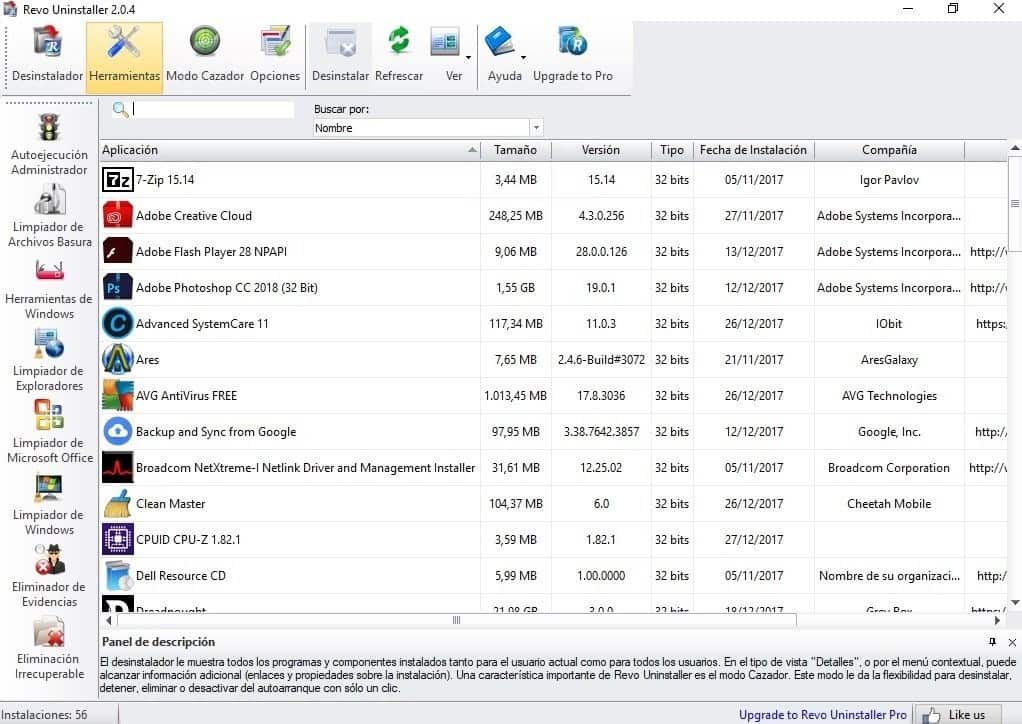 Just pick one of the options and it'll perform a deep scan and let you know whether any file is left or needs further action.
Hunter Mode
This ingenious and innovative feature literally takes the uninstall process to the next level. Once activated, the hunter mode will provide a targeting icon that can be used to select any application on your Desktop or start menu and you can just see from the options that you can perform.
You can stop the app from auto-starting, delete it with a single click and kill its process. Hunter mode is definitely the most stand-out feature of Revo Uninstaller.
Backup Options
If you're thinking that Revo Uninstaller is only good for removing applications then you're hugely mistaken. Because it can also monitor everything about any application in real-time and back up any registry or data you want.
The multi-level backup system enables the users to quickly select any application and choose to restore the previous settings with a click.
Cleaning Tools
Apart from all the exciting uninstall and backup functions, Revo Uninstaller also offers 8 different cleaning tools that you can use for free! Here is the list of those tools for you-
Autorun Manager – control Windows startup
Junk Files Cleaner – remove unnecessary files
Windows Tools – useful Windows tools in one place
Browsers Cleaner – clear Internet browser history
MS Office Cleaner – clear Microsoft Office history
Windows Cleaner – remove junk files from your Windows
Evidence Remover – erase permanently confidential data
Unrecoverable Delete – erase permanently files and folders
You can just choose any of these tools from the application interface and remove files and data from those specific applications.
Pros of Revo Uninstaller
Deep scanning and removal of registry keys or unwanted files
Additional cleaning tools
Forced uninstallation of persistent applications
Backup system
Free to download
Cons of Revo Uninstaller
The free version is very limited in terms of features
FAQs About Revo Uninstaller
Is it Free?
Yes, it has a free version that you can use without any payment. However, the free version offers fewer features than the Revo Uninstaller Pro version.
Is it secure?
Yes, it is completely safe and secure to use with your Windows operating system. However, be careful when using it as you can accidentally uninstall your crucial apps.
Does Revo Uninstaller work with Windows 10?
Yes, Revo Uninstaller works well with Windows 10 without any issues. You can easily delete or uninstall all the apps and registry files with it.
Conclusion
In the end, it's quite clear why Revo Uninstaller is one of the best applications to have on your Windows system. You'll often face such situations where you want to delete all the files associated with an application completely but can't seem to do that.
In those moments, this application can prove itself as a lifesaver. So, don't worry about leaving any residue of deleted applications and completely eradicate everything with this uninstaller.
Alternatives
Also, check the alternatives of Revo Uninstaller
Comments
Let us know about your thoughts