Ableton Live 10.1.3
Ableton Live 10.1.3 Download for Windows 11, 10, 8, 7 (64 or 32) bit PC. Free download the latest version 2023 of the software from NearFile.
Technical Details
App Informations
File Name
ableton_live_trial_10.1.3_64.zip
Operating System
Windows 2000 / Vista / Windows XP / Windows 7 / Windows 8 / Windows 10 / Windows 11
Date Published
09, April 2020
Date Modified
25, October 2022
About
Ableton Live free download for PC Windows (10/8/7/11)
There are tons of different DAWs (Digital Audio Workstations) out there for music producers to enjoy. However, none of them are as famous and well-detailed as Ableton Live Music. It is one of the finest in the music industry and even many famous music producers use it for their beautiful sound pieces.
While being a premium DAW, Ableton has users in both beginner and professional spaces. So, whatever your category is, you'll definitely get the maximum utility out of this amazing music workstation.
Features
Well, you don't wanna skip past the features of this incredible DAW, do you? So, let's glimpse inside the world of musical masteries-
Warp Function
Warping is a very basic function of any DAW but still, Ableton provides a unique way to redesign it. Basically, warping is the adjustment of tempo within a constant pitch. However, what Ableton does is that it creates a very pleasant environment to experiment with different modes of warping. So, you get a very different taste and flavor from your music!
Racks
The racks feature lets you stitch together multiple devices and use them to create a completely different set of sounds. You can be as flexible with them as you want.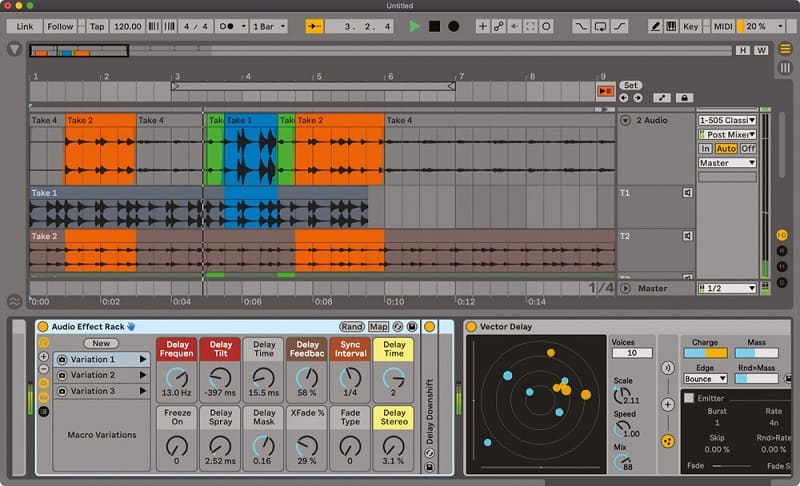 Adding various instruments through the parallel signal paths is possible within a single Rack. On top of that, you can even put multiple racks inside a rack.
So, the possibilities are just endless!
Groove Pool
The most disheartening thing about MIDI is that drums and bass lines seem a bit robotic at times. However, that's where DAWs bring their expertise. Ableton Live's Groove Pool feature lets you go through a variety of rhythmic sounds that you can manipulate. You just have to drag a groove and drop it into your song. Then you can adjust or tweak it as you want it to!
Follow Actions
This feature is another great addition to the long list of Ableton's attributes. It completely changes your perspective on the whole song creation process.
Follow actions let you navigate through many behaviors that chain clips with each other in a fascinating way! You can clip them sequentially or just let them flow on the go.
Pros
Intuitive and immersive clip-based live performance
Strong automation feature
Fluid transition and navigation
Mood Reel and Drone Lab packs
Cons
No window for notation view
The absence of pitch correction
FAQ's on Ableton Live
Is Ableton Live free?
No, Ableton Live is not free as it is a premium DAW. However, there is a 90 days trial version called Live 11 that you can freely install on your Windows PC.
What does Ableton Live cost?
Ableton Live will cost you $99 for the Intro version. For the Standard version, the cost will be $449. And lastly, the complete Suite will cost you $749.
Is Ableton Live worth the money?
Yes, Ableton Live is totally worth the money if you're a professional sound designer or want to experiment with different electronic sounds. However, it's not the best option for everyone.
Is FL Studio better than Ableton?
If you want more features, then FL Studio is definitely the better choice. Ableton is more appropriate for users who don't need tons of features but want to stick to a certain workflow.
Is Ableton easy to learn?
Yes, Ableton Live is one of the easiest DAW you can learn. It does not bombard you with extra unnecessary things so that you can focus on making great music.
What is the best DAW in the world?
There are many great Daws such as Ableton Live 11, Pro Tools, Logic Pro, Studio One 5, FL Studio, and many more. All of them are very good and one of the best DAWs to use.
Which is the best DAW for beginners?
Garageband, Logic Pro X, Ableton Live 11, and FL studio are very well-suited for beginners. These are easy to learn and users can get the opportunity to play around with different sound themes and instruments.
Endnote
In the end, the decision is always yours to make. Because DAW is a very personal thing and you don't wanna get influenced by others to hop into a completely foreign system that does not go well with you.
Still, Ableton Live is one of the finest in the market. And it won't harm you to try it out a bit, right? So, get on board with the change and start experimenting!
Alternatives
Also, check the alternatives of Ableton Live
Comments
Let us know about your thoughts