Planner 5D 3.3.2
(54 votes, average: 5 out of 5, rated)
Planner 5D free download for PC Windows (10/8/7/11)
Introduction
Planner 5D is an easy-to-use 2D/3D home design software that lets you design layouts with virtual furniture in 2D or 3D mode. Moreover, users can use the Snapshots feature to capture the realistic image.
Planner 5D was launched as a website in September 2012. Now it is led by Andrey Ustygov, who took the position of CEO in 2020. The founders of Planner 5D are Alexey Shremetyev, and Sergey Nosyrev.
Planner 5D Interface
Planner 5D Web Interface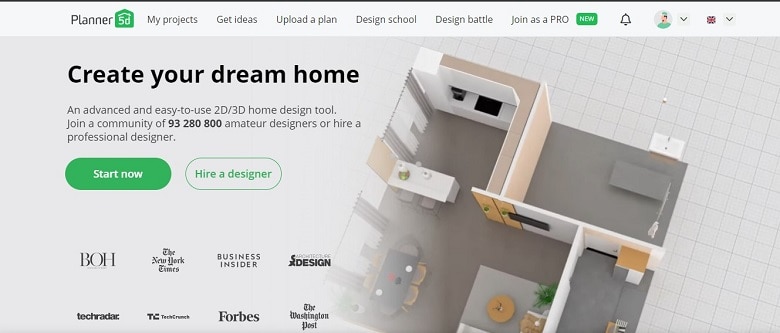 Get a free experience of Planner as it is entirely free to use. To use Planner, all you need is that go to this website and create an account. Now, let's be familiar with this website.
Planner 5d: You can design your dream house using advanced 2D/3D design tools. To create your home, click Start now or hire a designer.
My projects: In this option, your all-designed project will be shown. Also, users can manage, edit, and access their saved projects. You can restore deleted designed projects by the archived option.
Get ideas: This helps users to be inspired and gather ideas about the most creative interior design projects and home décor designs.
Upload a plan: Turn your floor plan into an interior design project. You can convert your own floor plan from a 2D image to a 3D scene by uploading a picture with a plan.
Design school: If you're a beginner and want to know Planner 5D functionality. Moreover want to design interiors then enroll in their course by going into "Design school".
Design battle: In this platform, you will get an opportunity to design with color accents.
Join as a pro: If you're a pro at designing interiors then this option is for you. Win the hearts of customers by creating stunning projects.
Planner 5D Desk App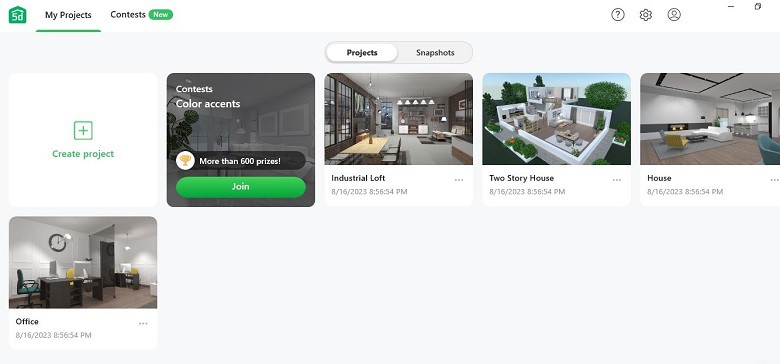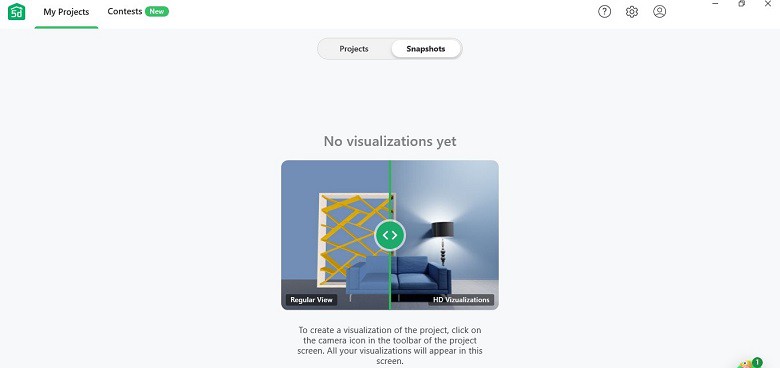 This app offers straightforward operation and flawless performance on a desktop. On the desk app create your own project and add accents color. Snapshots convert the interior plans into HD visualizations that show colors shadows and light angles.
Planner 5D Mobile App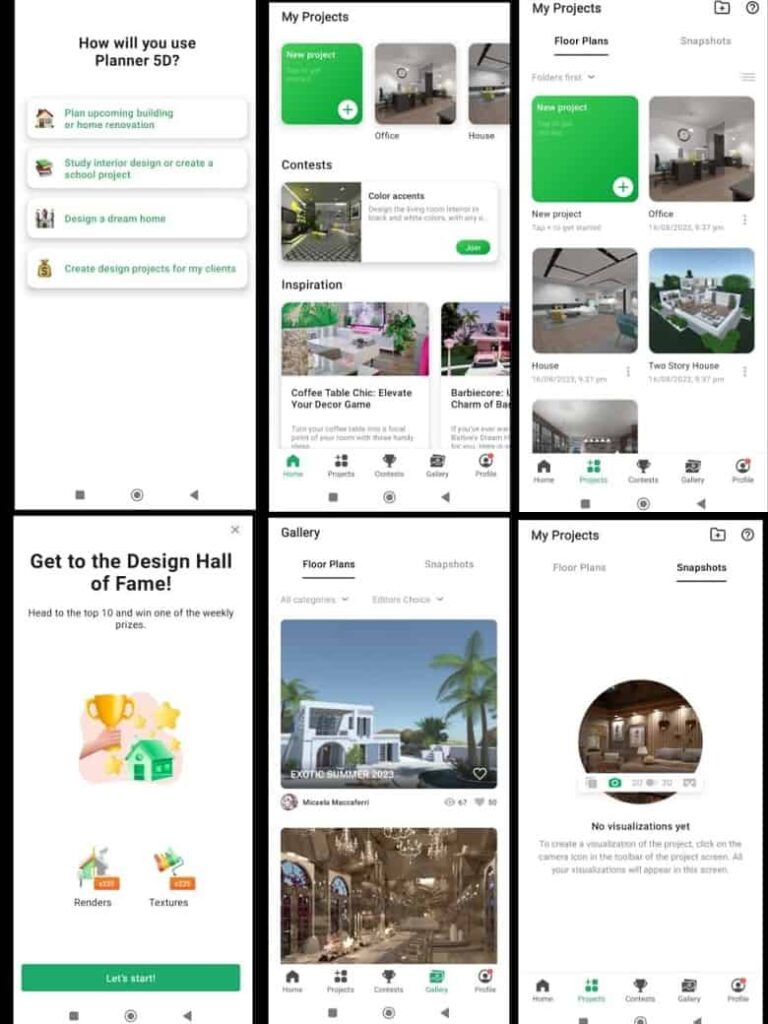 The mobile version of the app works well on phones. In the mobile app, users will get various options to design a project. According to his/her project click on the right option. On all platforms, you can choose the perfect language for you.
Features of Planner 5D
Build your designable dream home with just five easy steps that Planner 5D requires.
Layout & Design: Planner 5D provides a 2D mode to create the house's layout. Moreover, Planner includes a painter format and an automatic navigator feature that design floor plans by drawing lines on a gridline background. After creating floor plans, now add elements like walls, windows, and doorways to create a replica of the space you want to design.
On the mobile app, Planner also represents a feature which is " Capture Your Room" to further simplify the process. After giving the camera access to the app, users can move their phone around to record the visual representation of the room, the app needs the data to sketch it in 2D.
Variety of Templates: Planner allows you to use customizable preset templates if you prefer going through the easy routes. Fortunately, Planner provides a variety of pre-designed templates for a bathroom, a bedroom, a kitchen, and other rooms, as well as offices and houses that users can choose from. But the free version offers only a limited number of those template options.
Furnish & Edit: You will find an option "Customize Interiors" Click on it to fill in the space according to your architectural taste. This feature includes furniture, accessories, unit floor texture, wall patterns, and more which you can drag and drop into your designs. Planner is not only restricted to indoor items, but also includes outdoor items like pools, fences, and even plants and bushes. It lets you change the color of any item in your design.
3D Modeling: With Planner 5D, you can generate 3D models with a single tap instead of tinkering with existing 3D pieces. It is possible to add furniture and accessories to the 3D projects. This feature allows you to switch from 2D to 3D mode to view and compare how different combinations look in reality.
Visualize & Share: Complete your architectural drawing by using the Render feature You can create realistic pictures of your 2D sketch and the included elements. Also, you can adjust the colors, lighting, and shadows to make your work look like a photograph.
Your created works can be saved and shared with your friends, teammate, and family via a link.
System Requirements for Planner 5D
Platforms: Web, iOS, Android, macOS, Windows
License: Free
OS: Windows XP, Windows Vista, Windows 7, Windows 8, Windows 8.1, Windows 10, Windows 11
Processor: Intel or AMD Dual Core Processor 3gHZ
Hard disk space: 1 GB is required
iPhone, iPod touch: Requires 14.0 or later
iPad: Requires iPad 14.0 or later
File size: 630.6 MB
Planner 5D pricing
To get full access to all features, you'll have to pay for the privilege.
Individual for $19.99 per month or $59.99 per year, which will give you access to the complete catalog, 5 renders, 5 textures, plan recognition, and academy courses.
Commercial for $399.99 per year, which will give you access to all custom textures, lifetime 4K renders, 360 degrees panorama, custom branded profile, and a list of top designers. Besides, you can purchase renders from $7.99 for HD images to $39.99 for 200 pics
How to install Planner 5d
Download Planner 5d from there. During download, most antivirus will scan the program for viruses.
If you want to save it wherever you want then select save as otherwise it will save on your downloads folder.
After downloading is completed, double-click on the exe file to run the installation process.
Follow the installation process, appearing on the screen.
At the end of the installation process, now the Planner 5D icon will appear on your Desktop.
Pros of Planner 5D
Availability of languages
User-friendly interface
Works across multiplatform
A range collection of items
Fast performance
Cons of Planner 5D
The free version has a limited number of features
Too many pop-ups in the mobile app
Sometimes glitches while using the software
Web-version uses a lot of resources and makes your computer sluggish
Troubleshooting of Planner 5D
App crashes whenever open a project on the device. This problem can be solved by following a few steps.
First of all, reinstall the App. This process can help clear any minor issues.
Then identify where this issue occurs only with a project or with all projects. If a plan is too large then it can be complex for your device to handle effectively. So, try to design a simple project otherwise upgrade to a more powerful device.
Contact customer support if still showing problems.
FAQS
Is Planner 5D really free?
Yes, it is free only for users. You need to pay in the case of if want to get full access Planner 5D catalog.
Can I use Planner 5D offline?
You can design and render on your computer or tablet without an internet connection.
Is Planner 5D the best?
Planner 5D is an excellent and user-friendly software for beginners. It provides a range of options to design your project and will turn it into realistic.
Final Words
Aside from occasional glitches and resource hogging, Planner 5D is a well-designed service. It helps users to create projects quickly. Further, Planners 5D never disappoint a user to give them a realistic dream home. But its pricing model unsatisfied the users as it is unnecessarily complex and makes it hard to work out the actual price of the app.
Apps Informations
---
App Name
Planner 5D
File Name
9NBLGGH4MP71
File Size
Operating System
Windows 10 / Windows 11
Date Published
21, August 2023
Date Modified
09, September 2023
Category
License
Freeware
Publisher
Alternatives of Planner 5D
Comments
Let us know about your thoughts