Krita 5.1.5
(54 votes, average: 5 out of 5, rated)
Krita free download for PC Windows (10/8/7/11)
If you have ever felt like you need to get out of those old-school painting programs, then now's your chance! With Krita, you can achieve more than you could've ever done with any other application.
Krita is totally open-source and backed by artists who always found the existing painting application too restrictive. That's why, Krita puts no limits to your creativity.
Eager to learn more about Krita? Read on!
Top Features of Krita
Here are all the details about Krita and its incredible features-
Minimalist UI
The major feature of Krita is that it has a very clean and flexible UI that anyone can understand. Moreover, the tools and overall layout are completely customizable and intuitive.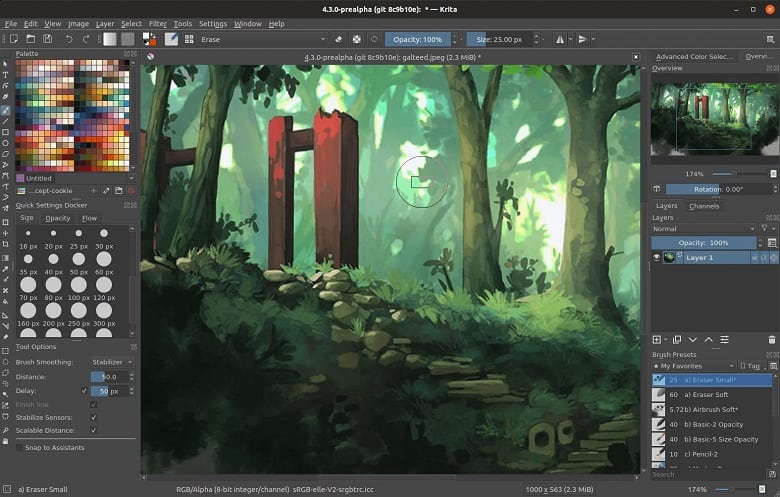 Apart from your system-specific theming, you also get more than 30 dockers for additional functionality.
Great Tool Collection
From beautiful brushes, stabilizers, and more than enough vectors, you are completely free to use the tools of Krita as you want. 100 professional brushes, 3 different brush strokes stabilizers, and built-in vector tools, all be used simultaneously to enhance your animation process.
Layer Management
What good can be achieved if you were not able to use all those tools without layering? That's why Krita allows you to use those tools without perfect layer management. Vector, filter, group, and file layers can be combined, customized, ordered, and flatten depending on your requirement.
Full-Color Support
If you are worried about the color of your animation, then Krita can assist you with that. Not only does it have full-color management through LCMS for ICC and OpenColorIO for EXR but it also supports HDR painting!
Krita also comes with a wide variety of ICC working space profiles that you can use to browse and make the colors your own!
System Requirements for Krita to Run on Windows PC
Anxious about whether your PC will support Krita or not? Check out the recommended specs and match your PC configuration-
OS: Windows 7 or above
CPU: 64-bit 2.0GHz+ Quad-core CPU or higher
GPU: Dedicated GPU with OpenGL 3.0 support.
Storage: 16 GB available space.
How to Install Krita on Windows Computer?
Until you have used Krita, you won't be able to understand what this powerful application is capable of. However, you might face some complications while installing Krita. So, here are the simple and easy-to-understand steps to download Krita on your Windows PC-
Step 1: After you download the application from this website, go to the file destination.
Step 2: Double-click on the installer and wait for the zip file to unpack. Select your primary software language.
Step 3: Click next to proceed with the installation.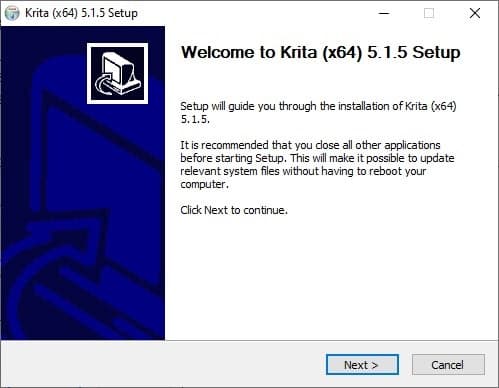 Step 4: Accept the terms of the agreement.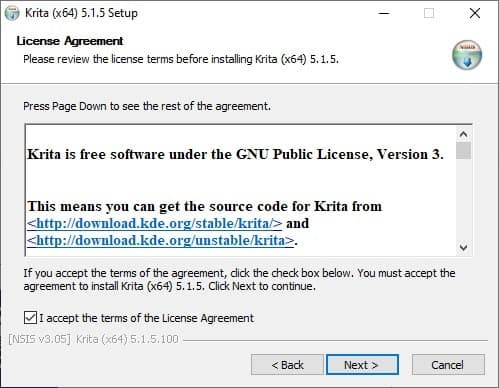 Step 5: Choose your preferred file destination to install the application.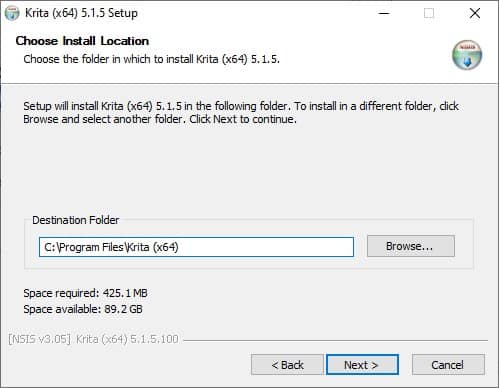 Step 6: Choose the additional components to install and hit Next.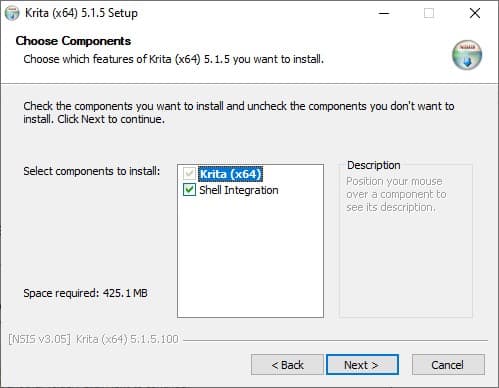 Step 7: Agree to the license agreement and then choose whether you want a start menu folder.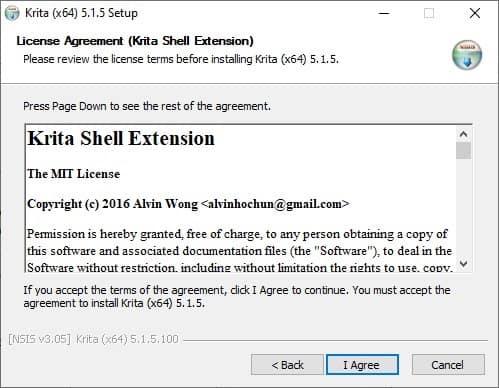 Step 8: Finally, tick or untick the create desktop icon option and press Install.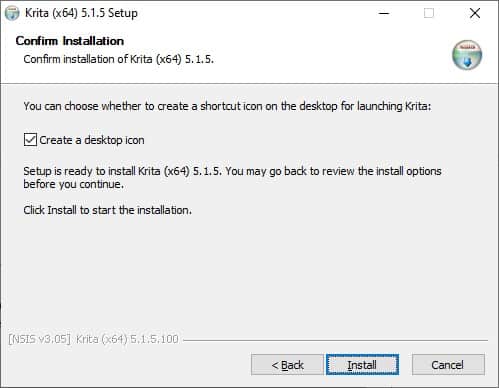 Step 9: After the installation is complete, you can now launch the software.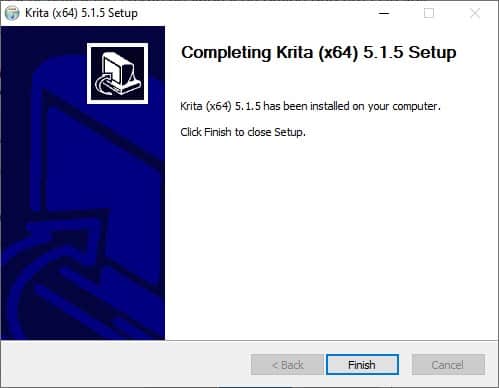 Pros of Krita
Awesomely intuitive UI
Great selection of tools
Good animation colors
Free to use
Cons of Krita
Troubleshooting for Krita
Krita has too many great features with very few problems. However, it's important to discuss those few issues, right? So, here are two common problems with Krita and how you can solve them-
Slow Startup
There can be numerous reasons for the slow startup of Krita software on your PC, ranging from too many applications opened at the same time to scanning of the software.
Here's what you can do to resolve this issue-
If you have too many resources installed, manage them from the Settings ‣ Manage Resource Libraries menu.
If you use Windows that utilizes portable ZIP files, then it can take a few moments before it can scan and open the Krita application. You can either go with the installer or disable the Microsoft scanning features.
Dark Animation/Render Issues
If you are facing any animation or rendering issues, then here's how you can troubleshoot your way out of it-
Use the "baseline" whenever you start rendering an animation.
Avoid using any stock media player like Windows Media Player. Use better video players like PotPlayer or VLC.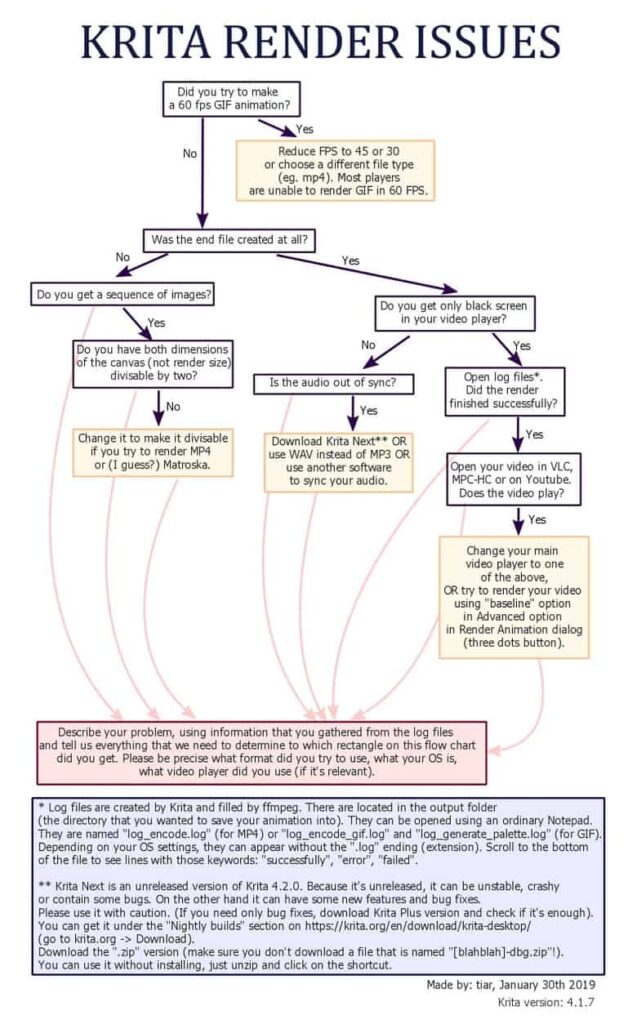 FAQs
Can I use Krita for professional work?
Yes, many professional artists and illustrators use Krita for their work. It has features and capabilities that make it suitable for professional use.
What file formats does Krita support?
Krita supports various file formats, including its native KRA format, PSD (Photoshop), PNG, JPEG, BMP, GIF, TIFF, and many others.
Does Krita have animation features?
Yes, Krita has animation capabilities that allow you to create and edit animations. You can create traditional hand-drawn animations and use keyframes for more complex animations.
Can I customize the workspace in Krita?
Yes, Krita is highly customizable. You can arrange and customize the panels, toolbars, and shortcuts to suit your workflow and preferences.
Conclusion
Overall, Krita is definitely one of those applications that you will love using. As it is made by creators like you, it is consistent and delivers on all the great features that everyone likes.
So, you should get the free version of this software now and be creative with your painting process!
Apps Informations
---
App Name
Krita
File Name
krita-x64-5.1.5-setup.exe
File Size
123 MB
VirusTotal Hash Code
6ca0cdf7337f3c4aeab284041695b5821ece1826c9c163dc44a01d593f8343c8
VirusTotal Scan Report
Operating System
Windows 7 / Windows 8 / Windows 10 / Windows 11
Date Published
29, July 2023
Date Modified
30, July 2023
Category
License
Open Source
Publisher
Comments
Let us know about your thoughts