ACDSee Photo Studio Ultimate 16.0.3.3188
ACDSee Photo Studio Ultimate 16.0.3.3188 Download for Windows 11, 10, 8, 7 (64 or 32) bit PC. Free download the latest version 2023 of the software from NearFile.
Technical Details
App Informations
App Name
ACDSee Photo Studio Ultimate
File Name
acdseeultimate.exe
VirusTotal Hash Code
96b01f31a49aa95bc86769c605a2530758b240fc063ae408691885a914577c46
Operating System
Windows 7 / Windows 8 / Windows 10 / Windows 11
Date Published
15, March 2023
Date Modified
18, March 2023
About
ACDSee Photo Studio Ultimate free download for PC Windows (10/8/7/11)
For anyone looking for a breath of fresh air from the typical photo editing applications, ACDSee Photo Studio Ultimate can be the next best thing. This all-new ACDSee Photo Studio Ultimate 2023 brings exciting new AI features with improved photo & video editing tools.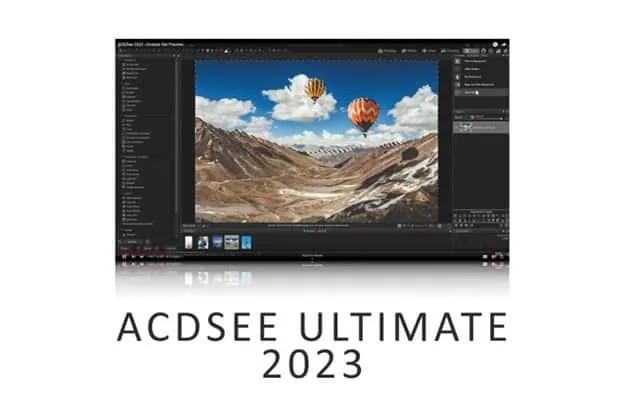 However, there are many other new additions to the application that you will find on ACDSee. Read through the complete feature list to get a good view of this acclaimed software.
ACDSee Photo Studio Ultimate Features
Do you want to know more about how to differentiate ACDSee Photo Studio Ultimate from other video and photo editing applications? Well here are the cool and exciting features that will help you to know-
Editing Finesse
The main purpose of ACDSee Photo Studio Ultimate is to edit photos and videos. This application has full RAW photo support with tons of editing tools. You can even layer the editing panes so that you can see the difference in your edits in real-time.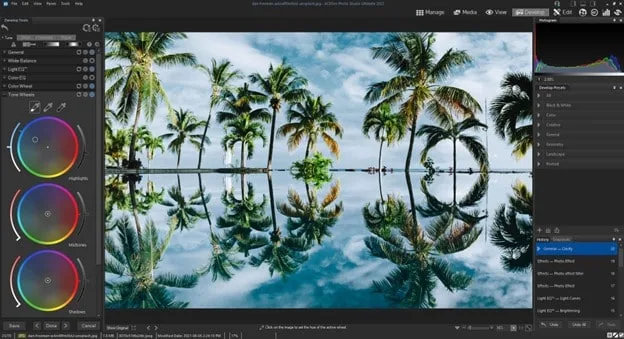 Taking things a bit further, you can manage and sort your files as easily as your Windows file manager.
On top of managing your photo and video files, you are free to process them in batches. This feature definitely makes your life ten times more convenient.
Shape Selection System
Just like all the people in the world, your pictures come in all shapes and sizes. Now, when there are so many shapes, it's quite tough to select every section perfectly without a precise tool, isn't it? Well, with the advanced Shape Selection tool provided by ACDSee Photo Studio Ultimate, you can accurately select all the corners and curves immaculately. So, you don't have to limit yourself to a subpar selection category anymore.
AI Actions
With the introduction of ACDSee Photo Studio Ultimate 2023, you now have the ability to go for AI actions. However, you may be concerned about whether AI will help or not. To give you an example, Photo Studio Ultimate's AI can ideally change & blur the subject, sky, or any other object in the frame. You also have the flexibility to replace the color tone of your picture with a click of a single button.
Search Selection
Quick search, advanced search panel, and easy labeling make ACDSee Photo Studio Ultimate one of the most organized editors you can find. You can use the advanced search page to pinpoint your file by filtering the metadata, or EXIF & IPTC fields. You can even perform complex searches with the help of specific search selections. So, no need to sit around in the application wasting your valuable time finding your files.
Pros of ACDSee Photo Studio Ultimate
Quick photo and video editing
AI integration
Easy organization and search
Built-in manager to better digital asset management
Cons of ACDSee Photo Studio Ultimate
No free version is available
FAQs About ACDSee Photo Studio Ultimate
Is ACDSee Ultimate free?
No, ACDSee Photo Studio Ultimate is not free but a trial version is available to download. You can use the trial version for 30 days with a full month's money-back guarantee.
Is ACDSee as good as Photoshop?
Yes, ACDSee is very similar to Photoshop when it comes to photo editing functions. However, Photo Studio Ultimate offers more flexibility as it comes with video editing and AI integration.
How much does ACDSee cost?
The one-time lifetime cost for ACDSee is $149.99. The lowest monthly subscription starts from $8.90 per month or $89 per year.
Concluding Remarks
How about we end the discussion with a summary now? The most incredible part about ACDSee Photo Studio Ultimate is that it has a completely new vibe compared to other photo & video editing apps. That's why it feels like a new experience altogether.
So, download the free trial of ACDSee Photo Studio Ultimate and bask in the new world of editing!
Alternatives
Also, check the alternatives of ACDSee Photo Studio Ultimate
Comments
Let us know about your thoughts