AdGuard VPN 2.1.50
(54 votes, average: 5 out of 5, rated)
AdGuard VPN 2.1.50 Download for Windows 11, 10, 8, 7 (64 or 32) bit PC. Free download the latest version 2023 of the software from NearFile.
Technical Details
App Information
File Name
adguardVPNInstaller.exe
VirusTotal Hash Code
e9db3852628bc88ae6a2a1ab53dc5bcb72fc210d08c71378b69e1976ff42d4f3
Operating System
Windows 7 / Windows 8 / Windows 10 / Windows 11
Date Published
04, August 2022
Date Modified
15, October 2022
About
AdGuard VPN free download for PC Windows (10/8/7/11)
Aren't you tired of using the same old pathetic VPN? We are sure you quite are and that's where AdGuard VPN comes in! This amazing VPN totally changes your perception of the virtual private network system.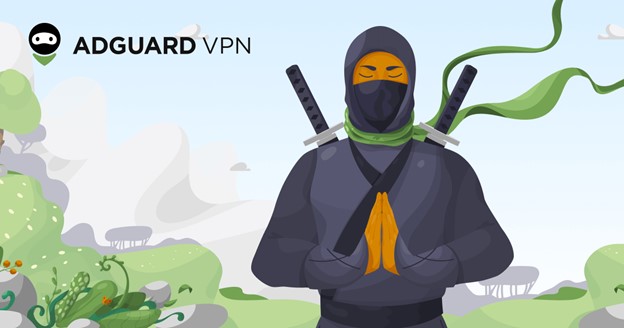 Seems too good to be true. Well, we thought the same but it completely took a 360 turn when we used the application.
Check out what it offers from here!
Features
Here are some of the key highlights of this VPN to understand the incredible prowess of AdGuard-
No Log, No Risk
It would be horrifying if any VPN decided to store or reuse your personal data, wouldn't it? That's why choosing AdGuard lets you be completely tension-free from any theft or leakage of your data. They don't store, sell or misuse any personal data of users. That way, you and all the users can do anything you want!
Uncompromised Security & Trust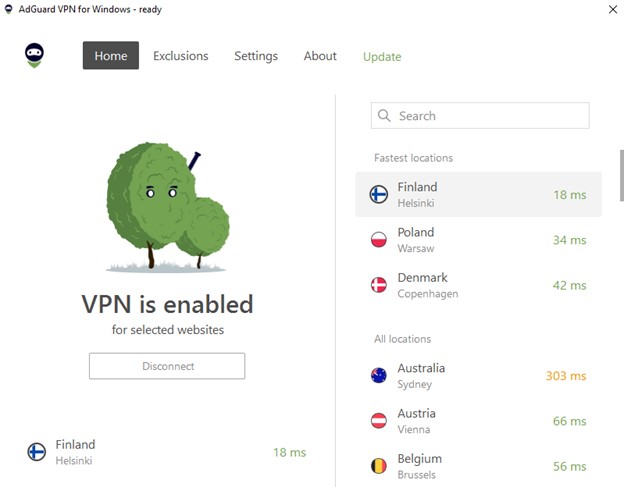 AdGuard's QUIC protocol lets you roam on any website without losing a single byte of connection speed. You can do everything with added security and reliance. On top of that, over the 12 years, the community of ten million users has made AdGuard a symbol of trust!
Total Personalization
Have you ever thought of including a website on the blocked list? Or an app that you badly want to manage? With AdGuard, you can do these things with just a few clicks. You can add any website to the VPN tunnel so that it can only be accessed when you're not on the VPN. And the best part is that you can do the same with your apps that need an internet connection to run!
Uninterrupted Streaming
Yeah, we know how annoying it is when your favorite streaming sites become completely useless when you connect to a VPN. However, AdGuard does not have any issues with streaming sites and services at all. You can stream, watch and enjoy from any part of the world without any problem.
Subscription Plans
AdGuard VPN has 3 different pricing plans for users with specific needs.
For light users, the 1-month plan comes at $11.99 excluding the VAT. It's not a great deal but decent enough if you want to test it out. Also, you can avail of the money-back guarantee within the first 30 days.
For medium users, the 1-year plan is a great one at the price of $3.99 per month. It's really a mind-blowing deal for a premium VPN.
And lastly, for the heavy users, those who don't want to be bothered with month-to-month subscriptions, the 2-year plan at $2.99 per month is absolutely bonkers! We rarely see such low prices on a paid VPN.
Pros
Up to 5 simultaneous connection
Multiple operating system support
Versatile security and performance
3 Gbs of free data usage
Decent pricing
Cons
Limited device and speed support on the free version.
FAQ's about AdGuard VPN
How to buy AdGuard VPN?
You can buy the AdGuard VPN with two methods. The first method is to go directly to get the paid version from their webpage. The second method is by downloading the VPN and buying from there.
How is AdGuard VPN better than its competitors?
AdGuard VPN includes the best security protocols and provides unparalleled safety. The anonymity of the users was always this VPN's first priority. That's why you get a better experience than its competitors.
Does AdGuard VPN Log Data?
No, AdGuard VPN never logs or tracks the users' activity. The VPN also does not share or sell the transaction or confidential information provided by the users.
What is the Difference Between Paid and Free Version of AdGuard VPN?
The paid version includes several premium features such as 5 device support, unlimited speed, and much more. Even the location access and servers are more advanced in the paid version.
Conclusion
Have you made up your mind yet? Well, it's not a big deal if you're still undecided. However, if you want to know our user experience, then it was quite decent. Apart from some minor connection errors and bugs, this VPN performed as we expected.
So, you can surely give this one a try as well. Download and test out all the features and then you can decide whether it goes with your requirements or not.
Alternatives
Also, check the alternatives of AdGuard VPN
Comments
Let us know about your thoughts