PrivateVPN 3.0
PrivateVPN 3.0 Download for Windows 11, 10, 8, 7 (64 or 32) bit PC. Free download the latest version 2023 of the software from NearFile.
Technical Details
App Informations
File Name
privatevpn-win-new.exe
Operating System
Vista / Windows XP / Windows 7 / Windows 8 / Windows 10 / Windows 11
Date Published
31, July 2022
Date Modified
22, October 2022
License
Commercial Purchase
About
PrivateVPN free download for PC Windows (10/8/7/11)
As VPNs are becoming more popular, the developers can't really add tons of features to excite the users anymore. Almost all the VPN applications look and feel the same. However, PrivateVPN offers something more than your typical VPN tries to deliver!
It has better security protocols, advanced customizations, and much more! You won't know what you're missing out on until you've tasted this one!
Features
Care to know what this VPN software actually offers? Here are the details about what you're getting into-
No Data Log History
Are you afraid that the websites and your IP will track and store your data and log history? Well, they can obviously do that if you don't use a good VPN! This Swedish VPN company does not have access to your online profiles.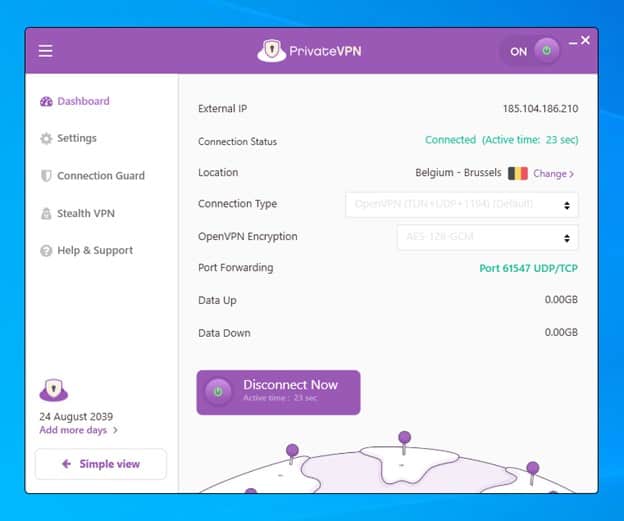 That way, they can't really know or track your online footprint. You'll be completely anonymous and unrecognized by any website.
Uncompromised Security
You probably have seen a fair share of good VPNs that provide decent security. However, PrivateVPN takes it up a notch by enabling 2048-bit security with MTD-grade protocol.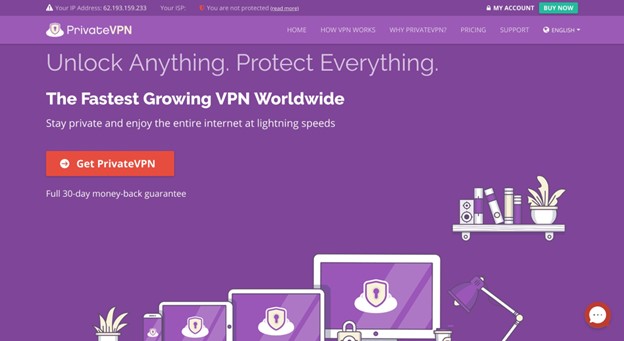 On top of that, you get the usual AES-256 encryption to be safe from any suspicious entity hacking into your system.
Unlimited Speed & Connections
The major drawback of some VPNs is that they can't offer the same speed when the connection is secured. The speed drops significantly without any reason. However, it provides unlimited speed even when your connection is completely secured.
And the best part is that you can connect 10 individual devices from one account. So, you're not limited to a few device support as well.
Reliable Support
Now, the most concerning thing about VPNs is that they often get connection issues. If the support from the developers is not good, then there's no point in using a VPN at all. That's why PrivateVPN offers reliable and responsive customer support. So, you can get connected with their service support at any time.
Pricing
There are a total of three different subscription options offered by PrivateVPN. Here they are-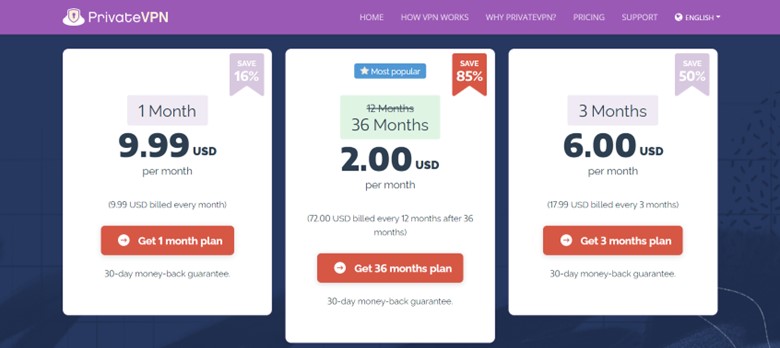 Monthly Package: If you want to go for a one-month subscription, the total bill will be $9.99/per month.
3-Month Package: The 3-month subscription will cost you $6 per month.
Yearly Package: This is the best deal out of the three. If you choose this package for 12 months, then you'll have to pay only $2/month. That's definitely a great price!
Pros
2048-bit security and encryption
Servers from 63+ countries
Up to 10 device connections at once
Easy to use
Cons
FAQ's about PrivateVPN
Is PrivateVPN good for gaming?
It's not the best for gaming, but you can enjoy playing games without issues. It delivers good speed even with small servers. So, you won't face any complications playing your favorite titles.
Is it safe to use?
Yes, there's no risk in using PrivateVPN to ensure your protection. It has military-grade encryption to avoid any suspicious activities and offers suitable security protocols.
How can I get a free PrivateVPN?
There isn't any way to get PrivateVPN for free as it is a premium VPN. You have to pay the monthly subscription fee if you want to enjoy the features. However, if you don't like the application, you can get your money back within 30 days.
Is PrivateVPN good for Torrenting?
Yes, PrivateVPN has good support for torrents. You can get traditional P2P support including dedicated torrenting servers. It even has many SOCKS5 and external proxies as well.
Conclusion
So, what are your final thoughts on PrivateVPN? Well, let us make this easier for you. The strong points of PrivateVPN are that it can provide you with enhanced performance and experience. However, you have to pay for the premium experience which can feel a bit much.
Still, you can try it out for 30-days and if you don't like it, you can cancel the subscription with a few taps. So, get yourself into the world of VPNs with PrivateVPN.
Alternatives
Also, check the alternatives of PrivateVPN
Comments
Let us know about your thoughts