Array SSL VPN 8.4.6
Array SSL VPN 8.4.6 Download for Windows 11, 10, 8, 7 (64 or 32) bit PC. Free download the latest version 2023 of the software from NearFile.
Technical Details
App Informations
Operating System
Windows 7 / Windows 8 / Windows 10 / Windows 11
Date Published
19, August 2022
Date Modified
23, October 2022
About
Array SSL VPN free download for PC Windows (10/8/7/11)
Array SSL VPN for PC is one of the best remote access services you can find over the internet.
During the time of the pandemic, all the corporate personnel depended on remote access for meeting and working. The need often proved problematic for people who do not have good access to security.
For the people who do not have access to the internet secure enough, they should look for Array SSL VPN for PC.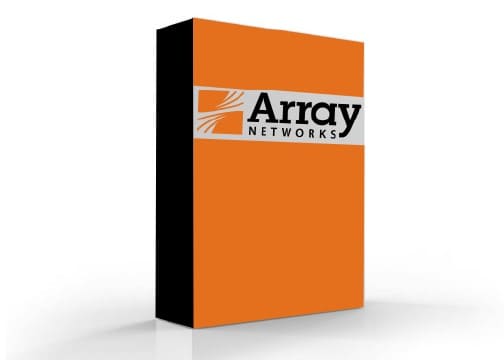 How Does It Work?
Array SSL VPN for PC actually offers direct access to your office data over the internet through their secured server. You can manage clients as well as keep your confidential files secured while accessing them. The VPN uses SSL/TLS Encryption and high-quality security that cannot be breached.
All the access users just need to use the same browser. This is the only catch you will face.
Features
High-Quality Security
Array SSL VPN for PC provides high-quality security for the users. The devices that are accessing a certain server are identified through the network and given certification on authentication. As a result, non-authenticated devices cannot access the server without prior
authorization. LDAP, OIDC, or IDaaS as well as single sign-on all are available.
Multiple Platforms
Array SSL VPN for PC is not just for PC. While you can use it on Windows and Mac, you can also use the same application on iOS, Android, and Linux.
As it is a multi-platform application, all office work can be done from different devices. Sales software can be easily accessed from different devices although you will need verification and authentication for your devices.
Open for Trial
While it is not completely free, you can indeed use the remote access service for a trial period. Array SSL VPN for PC is one of the best remote access servers for corporate works because of its security and high reliability. The user authentication and portals availability makes it very useful for managing your business.
Customizable Virtual Portals
The application provides you with 256 customizable portals through which you can access your servers easily. The servers are well secured to use and will not let you down on your security. Every one of the servers is very complicated to breach. The vast number of servers give you control over your security as you like.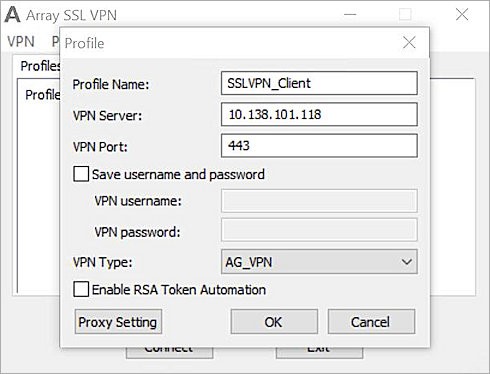 System Configuration for Array SSL VPN for PC
After opening the VPN client, click a profile and then click create. Put a name according to your business or personal use. Find the VPN server IP address for your website. And put it in the VPN server text box. Put 443 in the VPN Port text box.
At last select OK to proceed.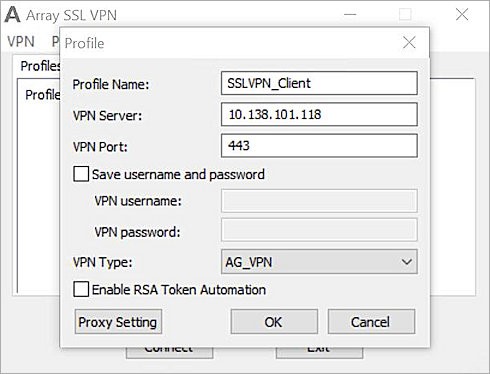 Technical Requirements for Array SSL VPN
Windows: 7, 10, and more
RAM: Recommended 8 GB as the VPN can often make the usage slower
Internet: Internet should be minimum 5MBPs
HDD: 100MB to 1GB space is enough to run the application
Pros
Manage your sales and clients securely
Access over 256 servers to enhance security
Cloud-based working environments for users
Multiple layer virtual authentication systems
Security enhancement over the networks
Cons
All the users need to use the same browser, even on different platforms
Multiple layer authentication for devices can be often demotivating for the clients
Tight security can be problematic for the end users to access the files and servers as per necessity
Our Uses
The application is a paid app and has many functions. You can use it to run a whole business. Certainly not recommended for personal use. Rather corporate organizations can easily get benefitted from the application. Array SSL VPN for PC is one of the best Virtual Private Networks which authenticates the device first and then gives the user access. This certainly adds benefit to the corporate users. Besides the layers of security and the servers available are pretty good to work with for maximum security.
Alternatives
Also, check the alternatives of Array SSL VPN
Comments
Let us know about your thoughts