CuteDJ 4.3.5
(113 votes, average: 4.87 out of 5, rated)
CuteDJ free download for PC Windows (10/8/7/11)
Even if you have tried and tested tons of mixing software for your party gear, CuteDJ is just too hot to not try! It is an all-in-one DJ mixing software for Windows and Mac.
It provides a user-friendly interface and features such as automatic beatmatching, real-time pitch and tempo adjustment, and support for a variety of audio formats. The application is mostly marketed toward beginner and amateur DJs who want an easy-to-use tool for mixing music.
Features
Want to take a peek at what else CuteDJ offers? Here are different features of this app that might intrigue you-
Beautiful Layout
While the layout is quite simple and traditional, it totally captures the attention because of its smart navigation systems. The top and down half is well-detailed & refined to easily understand the interface.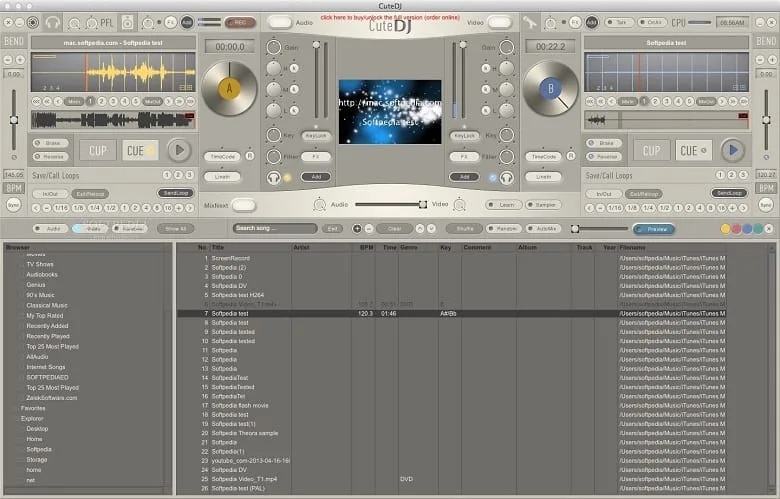 As the name suggests, CuteDJ is actually cute and elegant to look at. The gray color is pleasant to the eye and you will get anything at a click away.
Auto-Beat Futures
You can obviously make your own tunes and beats masterfully. However, there are times when you need that extra push to get the work done. At times like those, the auto-tune mixing can help you to take your beats to the next level.
Additionally, a top-of-the-line mixing engine, customizable EQ shelves, timecode vinyl control and make your mixing more fluid and seamless.
iTunes Integration
For those Apple heads out there with iTunes madness, this feature will definitely make you go wild. Because there are very few DJ mixers that offer direct iTunes integration and CuteDJ is the exception here. You can instantly connect to your iTunes account and load your favorite music on the go!
Cross-Platform Compatibility
As you can guess, the application can be used on two of the most popular operating systems, Windows and MacOS. The software support from the developers is very good and the updates improve the overall user experience.
Multiple File Format Support
Tired of choosing between different applications or mixing tools depending on what music file you're working on? Well, with CuteDJ, that hassle of switching finally ends. It has more than enough file format support for audio, video, and karaoke! Here are all the supported file formats for this application-
Audio: MP3, AAC, WAV, M4A, OGG, WMA, MKA, CDA, Aiff, M4R, Flac, AU.
Video: MP4, M4V, MKV, WMV, AVI, MPEG, MPEG-2, Quicktime, VOB, FLV (YouTube, Google…), 3GP, 3G2.
Karaoke: CD+G, MP3+G, ZIP MP3+G.
Pros
Simple interface and navigation
Auto-mixing and one-click editing option
Multiple audio and video format support
Various hardware controllers support
Cross-platform compatibility
Cons
No free version is available other than the limited trial version
FAQs About CuteDJ
Is it Free?
No, it only offers a trial or demo version of its freemium application. However, the premium model does offer a 30-day money-back guarantee if you're not satisfied.
Is it Safe?
Yes, CuteDJ is completely safe and secure to use on your Windows devices. You can download the application from here without facing any issues.
How to Use CuteDJ?
You can use the application by adding music tracks to the playlist by either dragging or dropping files into the program. Then, use the equalizer, mixer, or other tools to make your own tune!
Will CuteDJ work on 64-bit computers?
Yes, it is compatible with both 32-bit and 64-bit computers. So it should perfectly work on your 64-bit computer.
What hardware can I use with CuteDJ?
This software is compatible with a variety of DJ controllers, mixers, and sound cards. To use it, you will need a computer with a sound card and speakers, as well as a DJ controller or mixer to control the software.
Conclusion
Finally, it can be easily said that CuteDJ is a versatile audio mixer for any audio enthusiast out there. While the GUI and interface might be simple, the features make up for the elevated experience.
Mixing, recording, tuning, or editing, you can do it all with the CuteDJ application. So, get yourself the latest from only here and make yourself the perfect DJ at the party!
Apps Informations
---
App Name
CuteDJ
File Name
CuteDJ.exe
File Size
9.5 MB
VirusTotal Hash Code
bf66e0e06295b2893d7457676a0ae3fe48e3bc86e54e8bf15b99c1fb8b86ac49
VirusTotal Scan Report
Operating System
Vista / Windows XP / Windows 7 / Windows 8 / Windows 10 / Windows 11
Date Published
08, April 2023
Date Modified
09, April 2023
Category
License
Trial
Publisher
Comments
Let us know about your thoughts