Imagenomic Portraiture Plugin for Photoshop 4.4032
Imagenomic Portraiture Plugin for Photoshop 4.4032 Download for Windows 11, 10, 8, 7 (64 or 32) bit PC. Free download the latest version 2023 of the software from NearFile.
Technical Details
App Informations
App Name
Imagenomic Portraiture Plugin for Photoshop
File Name
PortraiturePS4032.exe
VirusTotal Hash Code
e4b3071d31b0fb680b8fa42c00b8d6ba52379cbba0ba2080b96fe2e324f6e079
Operating System
Windows 7 / Windows 8 / Windows 10 / Windows 11
Date Published
05, October 2022
Date Modified
15, March 2023
About
Imagenomic Portraiture Plugin for Photoshop free download for PC Windows (10/8/7/11)
Imagenomic portraiture Plugin is the best Photoshop Plugin. Photoshop itself is a juggernaut of an application that can take your simple picture to look professional grade. But what if I told you there are tons of incredible plugins that can enhance your Photoshop skills to the next level?
Well, today's feature is about one such plugin named Imagenomic Portraiture. This plugin tool will allow you to retouch, remove and enhance your Photoshop pictures and even your videos!
Eager to know more about this award-winning plugin? Stick with me to know the full details.
Features of Portraiture
The full feature list of this plugin can't be summed up in a single paragraph at all. That's why this whole segment will only focus on the awesome features of Portraiture-
Stunning Retouching
The main focus of this plugin is to provide world-class retouching with minimum effort. The built-in setting is enough to remove any noises and grains from the picture. Also, skin retouching is just otherworldly. Don't believe my words?
Here's a great example of portraiture before and after retouching-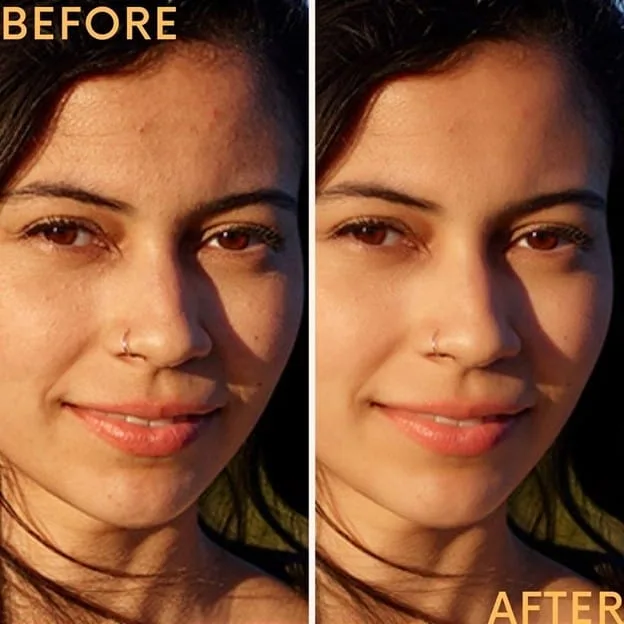 I think you got the idea about how powerful this small plugin is!
Improved Performace
The image processing power is regularly improved to give you that top-notch industry-level performance within seconds. With parallel processing computation, you can do more in less time now. So, your whole retouching, editing, and filtering are much faster than before.
Fully Optimized
The plugin is completely optimized for Windows and macOS. For the Windows part, the company regularly updates the application for the Windows 8 and above version. So, you'll enjoy only the greatest performance on your PC without any compromises.
System Requirements for Imagenomic Portraiture
Windows OS: Windows 7 and above
Processor: Intel Core 2 Duo or higher
HDD: minimum 1 GB of free space
RAM: 1 GB minimum
Adobe Photoshop: Photoshop CC 2015.5 or higher
Pros
Easy installation
Excellent and professional-level retouching
Very compact size
Free trial edition
Cons
The price is a bit expensive
FAQs
What Is a Portraiture Plugin?
Portraiture Plugin is a Photoshop plugin that lets you treat selective masking more easily. On top of that, it offers pixel-by-pixel treatment for better color correction and retouching.
How much is Portraiture Plugin in Photoshop?
The basic skin retouching plugin of Portraiture will cost you $199.95. If you want to go for the full professional plugin suite, then it'll cost $299.95.
Is Portraiture Plugin free download Available?
You can download imagenomic portraiture for free but that's only for a limited period. The free trial lasts only up to 15 days.
Conclusion
Imagenomic portraiture is an awesome tool for your daily Photoshop adventures. Indeed, the hefty price is not something you can easily ignore. However, once you get past that, you'll definitely see the worth.
Still, the trial version is a good way to start your Photoshop enhancement phase. So, get it from here and enjoy!
Alternatives
Also, check the alternatives of Imagenomic Portraiture Plugin for Photoshop
Comments
Let us know about your thoughts