Letasoft Sound Booster 1.12.0.538
(104 votes, average: 5 out of 5, rated)
Letasoft Sound Booster 1.12.0.538 Download for Windows 11, 10, 8, 7 (64 or 32) bit PC. Free download the latest version 2023 of the software from NearFile.
Technical Details
App Information
App Name
Letasoft Sound Booster
File Name
SoundBoosterSetup.exe?ver=1.12.0.538
VirusTotal Hash Code
4c00a2f66bb1d2470b17ef277f5f12a90ff2fc86a258cb82bf294835b87d4e02
Operating System
Windows 7 / Windows 8 / Windows 10 / Windows 11
Date Published
29, May 2021
Date Modified
08, January 2023
About
Letasoft Sound Booster free download for PC Windows (10/8/7/11)
For all of those who just have decent enough speakers, Letasoft Sound Booster can be the perfect solution. With the help of its sound boost technology, get up to 500% of sound amplification!
If you're thinking about purchasing new speakers just because of the low sound, Letasoft is the perfect answer. Want to know more about what this application has to offer? Continue your read to the next section.
Feature List of Letasoft Sound Booster
Let's look at some of the exciting features of this software before your download and install it-
Unlock the Maximum Sound
Tired of that distorted or low sound volume on your Windows PC? Letasoft Sound Booster can offer up to 500% more sound amplification than your regular maximum sound. And the best part is that sound amplification is enabled for all the system apps and third-party apps.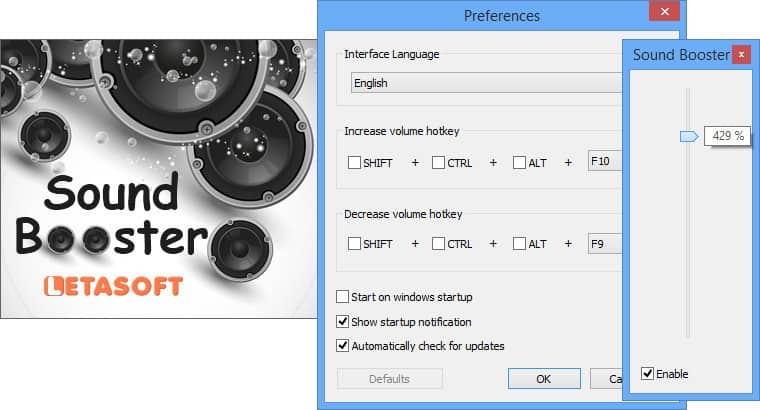 We all know that web browsers tend to have lower volume than system apps but Letasoft amplifies the sound all across the OS. So, you get consistent sound amplification throughout all apps.
Two-way Sound Amplification
There are basically two methods of sound amplification available for the Letasoft sound booster: code injection and APO effects.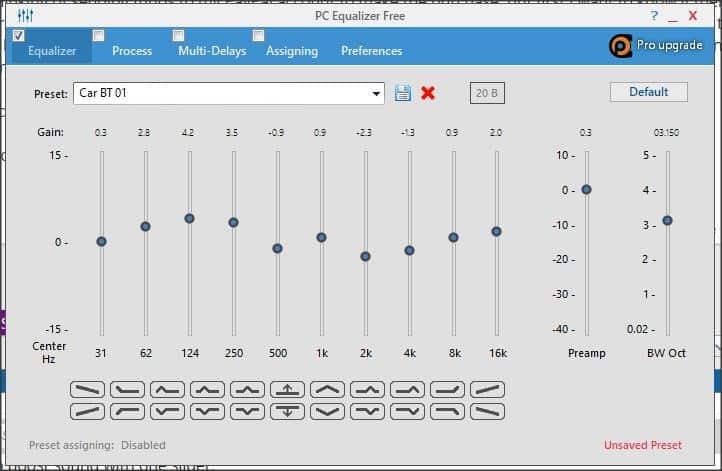 They both have their strengths and weaknesses but both are enabled in the system for optimal playback and sound experience. You can choose both or just one method if you prefer.
Easier Than It Gets
There's no hard learning curve with Letasoft Sound Booster as it boasts a simple UI. Just access the pop-up slider from the Windows system tray and set your preferred volume level. Or you can use the hotkeys to increase or decrease the volume whenever you want.
Zero Distortion
It's quite common for the speakers to distort the sound when amplified. However, with the Letasoft sound booster, you don't have to worry about distortion at all. It regularly analyzes the gain level and avoids any sound clipping issues so that your speakers don't produce any distorted sounds.
Automatic Boot
The sound booster has the setting to auto-start the application whenever you boot. This feature is pretty useful if you have speakers that produce very low sound. You can either enable or disable the feature from the settings.
System Requirements for Letasoft Sound Booster
OS: Windows XP to 11, both 32-bit & 64-bit
Processor: 1.0 GHz or above
RAM: Minimum 256MB
HDD: At least 10MB of free storage
Pros of Letasoft Sound Booster
Simple usability
500% sound amplification
Easy-to-use UI
Supports almost any Windows versions
Trial period extension upon request
Cons of Letasoft Sound Booster
The trial version stops for 5 seconds after every 5 minutes of usage
FAQs About Letasoft Sound Booster
What is the Letasoft sound Booster?
Letasoft sound booster is a Windows utility program that can increase the threshold level of your Windows system. Once enabled, you'll notice an increase in the volume even if the system volume is maximized.
Does Letasoft Sound Booster work with browsers?
Yes, the Letasoft sound booster can increase the maximum volume on any web browser. So, whether it's Chrome, Microsoft Edge, or Mozilla Firefox, you get to enjoy increased sound in all browsers.
Is it free?
No, it is not free to use. However, there's a trial version available for those who want to try out the application before using it full-time.
Conclusion
To summarize the whole review, I must say that Letasoft Sound Booster offers an incredible sound boost mechanism to enhance your audio experience. There are very few alternatives to this application and that's what makes it special.
Even if you think about not purchasing the full version, try the trial version and check the compatibility. So, download the application from here and enhance your sound permanently!
Versions
Check other versions
Alternatives
Also, check the alternatives of Letasoft Sound Booster
Comments
Let us know about your thoughts