Veeam Agent 6.0.2.1090
(96 votes, average: 5 out of 5, rated)
Veeam Agent free download for PC Windows (10/8/7/11)
With Veeam Agent for Microsoft Windows, one can easily back up his machine to an external hard drive. If one needs to get his data back, there are various easy recovery options available in this software. By using this software one can easily create a backup file of his entire system or selected file quickly and easily. One can easily create a backup file because of its amazing various features. This software lets the user control backup file configuration as he wants.
For this reason, one can create a backup easily depending on his system performance. These apps have advanced backup schedule settings which allow their user system to back up automatically after a certain time set by its user.
Configuration Backup
With this one can create a new backup job. The user can do the following backup through this –
The entire Compute One backs up his entire computer through this function. It's used for fast recovery and that's why while creating a backup it will automatically delete those deleted, temporary page files for fast and small backup files.
Volume Level Backup: It allows one to backup those images of the selected volume one want to backup. Here is one backup data separately.
File Level Backup: This allows backup back up individual's files and folders by mask. This mode uses an image-based backup with only selected files included in the image.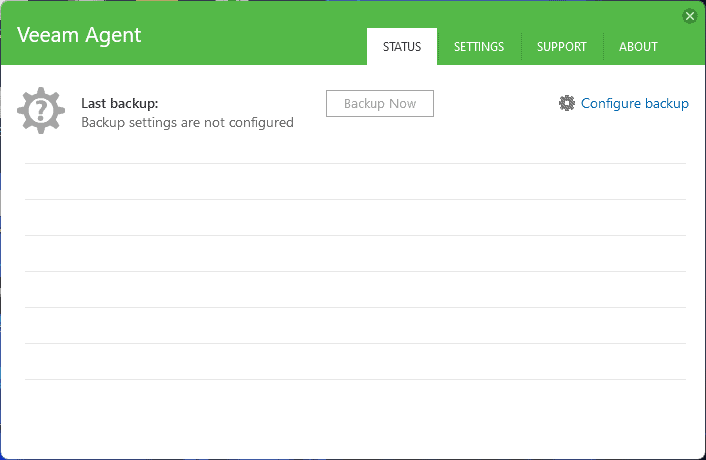 File Location
For the backup file's location, one can choose the following option available below-
Local Storage
Shared Folder (Regular file server)
Veeam backup repository
Microsoft OneDrive
Advance Setting
Here one can configure Active backup time or he can choose the schedule for backup time. He can maintain storage level corruption guard, Full backup file maintenance. He can also maintain storage settings by reducing or extending size or using files as encrypted etc.
Veeam Setting
General
Schedule Backup
Throttle Backup (when the system is busy)
Manage Network
Manage Registered Storage Device
Notification
Control notification panel
Email notification panel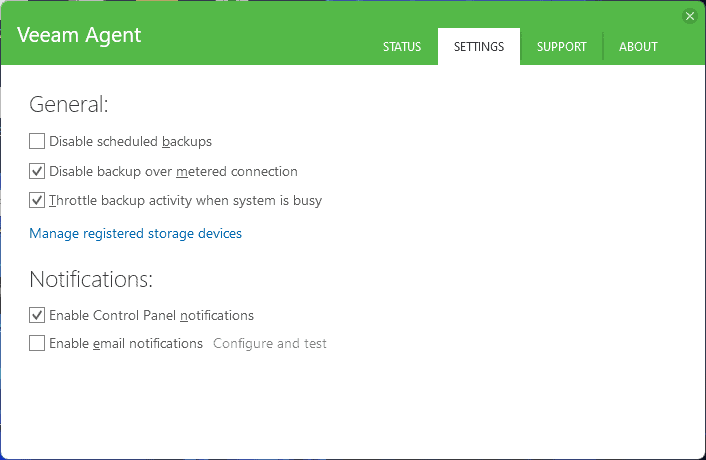 Backup Target
Through this function, one can back up to an external USB drive, for this one just has to plugin and do the backup. For the configuration settings, one can use the system recommended or he can do as he wants to.
Full System Backup
This software enables its user to restore the whole system, this function will allow to boot into the recovery environment and initiate Bare Metal Restore. And to ensure smooth recovery this software also includes device drivers and network setting from one's PC into images.
System Requirements for Veeam Agent
Operating System: Windows 7,8.1,10
CPU: x86-64 processor
RAM: 2Gb
HDD: 200 MB (installation)
Pros
Free to Download
Simply usable
Flexible in any Devices
Reliable regarding data protection
Powerful and secure for future used
Cons
Confusing Interface
Capacity-based backup missing
Complex restoration process
Program troubleshoots missing
FAQ's about Veeam Agent
Does Veeam support Windows XP?
No, it doesn't run on the Windows XP version. The minimum version to run the Veeam agent is Windows 7.
How do I download Veeam Agent for Windows?
You can download it from the Veeam agent's official website. The official website provides a free version of it for anyone. To download this one has to go there and choose which version he wants to download. And after that, he has to create and Veeam agent account and the download link will be available once the user login using the Veeam agent account.
What is the Veeam Agent for Microsoft Windows?
This is utility software for data protection and disaster recovery solution for physical and virtual machines. Using this one can create an entire system backup or selected file backup.
Is Veeam agent-free?
Yes, this is free to download and use.
Is Veeam a Russian company?
Indirectly yes, because the founder was born Russian. But the company is situated in Columbus.
Our Uses
This is one of the best free backups and restores software to use. By using this software I was able to create backup files quickly and be useful. This software lets me create a backup to an external hard drive. Using this software I was able to create my entire system backup. Even I was able to create a selected file backup. This also came up with an advanced setting that let me customize backup as I wanted. There was some issue with this software like the interface was confusing, the restoring process was complex, etc.
Apps Informations
---
App Name
Veeam Agent
File Name
VeeamAgentWindows_6.0.2.1090.zip
File Size
144.60 MB
Operating System
Windows 2000 / Vista / Windows XP / Windows 7 / Windows 8 / Windows 10 / Windows 11
Date Published
21, April 2020
Date Modified
23, September 2023
Category
License
Free
Publisher
Alternatives of Veeam Agent
Versions
Check other versions
Comments
Let us know about your thoughts