Avira Phantom VPN 2.38.1
(54 votes, average: 5 out of 5, rated)
Avira Phantom VPN 2.38.1 Download for Windows 11, 10, 8, 7 (64 or 32) bit PC. Free download the latest version 2023 of the software from NearFile.
Technical Details
App Information
App Name
Avira Phantom VPN
File Name
avira_en_vpnb0_669467978-1661004163__pvpnws-spotlightvpnadw-test.exe
VirusTotal Hash Code
c506f78705872620dd3363a1813db0903143338b7c63fc4cfa244e9e6077ab4b
Operating System
Windows 7 / Windows 8 / Windows 10 / Windows 11
Date Published
20, August 2022
Date Modified
16, October 2022
About
Avira Phantom VPN free download for PC Windows (10/8/7/11)
Avira is a known name for Antivirus lovers as Avira has an antivirus that is very efficient and effective for your PC. Still Avira Phantom VPN is no less. This is a VPN that has the ease to access it as well as it serves your purpose – from streaming service opening to accessing closed websites in your region.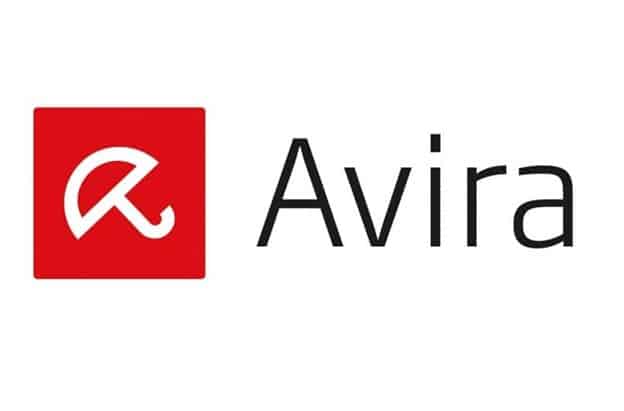 Why Avira Phantom VPN?
The question should be why not? Because Avira Phantom VPN is one of the most user-friendly applications over the internet.
Unlike other Virtual Private Networks, Avira offers a lot of functions within a few clicks. When other VPNs are not as easy to configure or use, Avira allows the user to use one or two clicks to fire it up and access all the data over the internet securely and successfully.
Server List
Avira Phantom VPN is the best for its server list. The program has many servers in many countries. You can access the web through –
Czech Republic
Germany
Spain
France
Netherlands
Poland
Romania
Sweden
UK
USA
Etc. countries
The server is just a click away from your safe surfing over the internet.
Say Goodbye to Cookies and Malware
One of the most important reasons you should use a VPN is to make your surfing untraceable to avoid being spammed or tracked by advertisers. Avira Phantom VPN can easily save you from those troubles.
Cookies and Malware as well as adware cannot track you down over the surfing time if you are using Avira Phantom VPN. It can easily save you from being spammed or facing possible harmful software. You can also get the experience of using different sites from their home countries.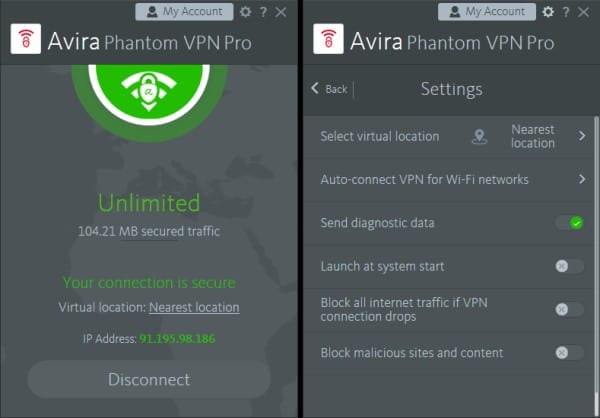 Features
A Free and Cool Software
Avira Phantom VPN is free and cool software. It does not need any money to purchase. The free software brought a revolution for the IoT or the Internet of Things. As many corporate offices even depend on their sales of VPNs. Without a properly secured portal, transactions might become harmful for both parties.
Streaming
Various streaming servers like NetFlix and IFlix can become problematic in different regions. If you want to open all the videos on the servers then you may need to access them with VPNs. While you open it through VPN and choose the home country according to your need, you may watch all the videos depending on the chosen server. Avira Phantom VPN does this for you.
Security for Torrents
Those who believe that the internet should be free for everybody know the need for torrents. But for security and piracy problems, sometimes torrents do not work.
To avoid these issues, Avira Phantom VPN can work like a charm. You can download secured files through the portal without second thoughts.
Multi-Platform and Multi-Device
You can use the same software on multiple devices from multiple platforms. Avira Phantom VPN is available on Windows, Mac, Android as well as iOS.
You can have the same feeling about the users everywhere.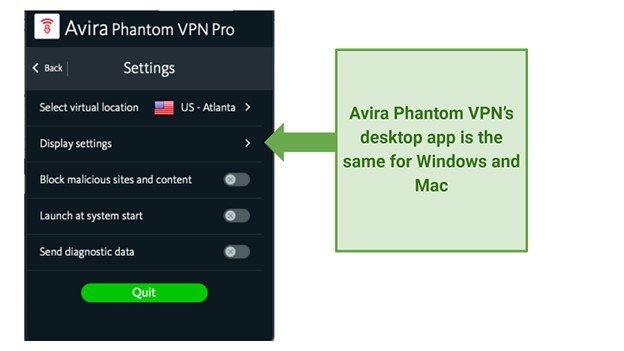 Pros
Free till a limit for usage on multiple platforms
One of the best user-friendly VPNs over the internet
Easy and Quick installation over the PC
Many servers available to connect without hassle
Cons
Has a limit for free usage
Rather than browser extensions, Avira Phantom VPN focuses on a centralized VPN system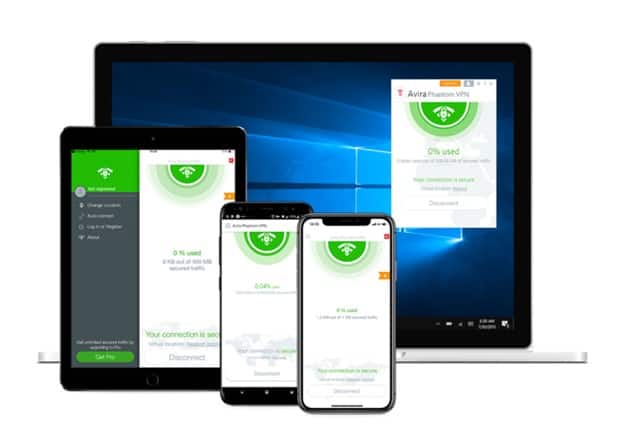 System Requirements for Avira Phantom VPN
OS: Windows 7 or Later versions, 8 is a better option. For iOS, 11 or later versions
Android version: Yes
Servers Available: 37 countries
Data Encryption: Yes
RAM: Minimum of 4 GB is recommended. 8 GB is a better option
Free Space: Minimum of 1-2 GB of free space is good enough
Data Limit for free VPN: 500 MB
FAQ's on Avira Phantom VPN
Is Avira Phantom VPN safe?
Yes, Avira Phantom VPN is the software you can use safely to access the internet without any problem. You can use it for free per month till a limit. After that, you may need to pay a little.
Is Avira Phantom VPN free?
You can use Avira Phantom VPN for free for 500 MB per month. After the limit is finished, you may become prompted to pay a little fee per month. Every month the limit is reset for your usage.
Is Avira Phantom VPN PRO good?
Avira Phantom VPN is good software. The PRO version is good too. Like the antivirus by Avira, it is very user-friendly and gives unlimited data to be accessed over the internet through a safe portal.
Which free VPN is best?
OpenVPN and Avira Phantom VPN are very popular over the internet. Besides, Atlas VPN and HMA VPN have also made names for themselves. Still, different VPN providers limit their free options on different platforms from time to time. You can choose different VPNs for different devices to get the best benefits.
Our Usage
Avira Phantom VPN is quick tos set up. But may not function properly if your device has problems with different configurations or system requirements. Please check the requirements first and then install.
Alternatives
Also, check the alternatives of Avira Phantom VPN
Comments
Let us know about your thoughts