CyberGhost VPN 8.2.4.7664
(114 votes, average: 4.98 out of 5, rated)
CyberGhost VPN free download for PC Windows (10/8/7/11)
VPNs, as good as they get, can often be a bit overpriced. However, not all VPNs are premium priced if you know where to look. Take CyberGhost VPN for an example. This awesome VPN lets you do the same thing as many of the high-end VPNs while providing the best possible deal.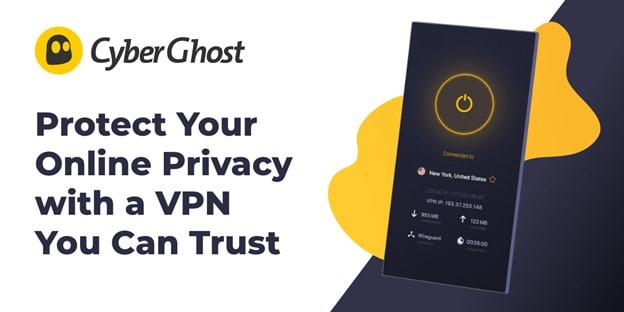 That's why we'll try to analyze whether it's truly as great as its competitors or not.
Features
You probably know one or two things about CyberGhost VPN already. Still, it's always beneficial for you to know a bit more. So, let's check out what CyberGhost has been cooking for you-
Ultimate Encryption
Like most other strong VPNs, CyberGhost also comes with 256-bit AES encryption for military-grade protection.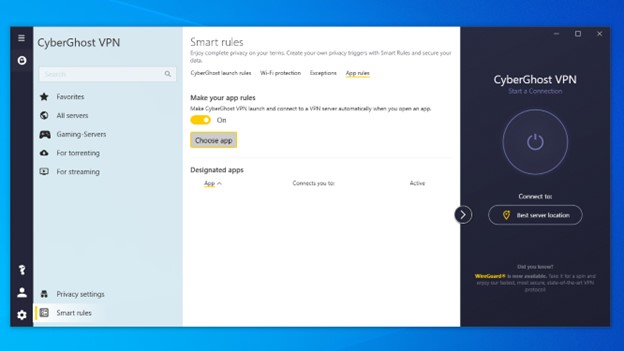 It can easily hide your online presence and location to ensure fully untraced web browsing. Also, the scrambling of your web traffic adds more reliability to the encryption.
No log History
Another great thing about CyberGhost VPN is that it can solve your anonymity issues without storing any personal data. So, no log history record or storage of your data. You can be as free as a feather on the web with CyberGhost VPN.
Multi-Platform Support
CyberGhost excels in supporting multiple operating systems at once. Windows, Linux, macOS, iOS, and Android are just some of the supported OS. The best part is that you can even route it up with your smart TV, gaming console, or Amazon fire devices as well!
Excellent Speed
Are you tired of getting slow speed with your VPN? Well, then the reason might be poor server networks. However, with CyberGhost, there is no chance of getting a poor connection or download speed as there are CyberGhost servers on all continents. That's why you get consistent high-speed internet speed whether you're downloading something or streaming your favorite content.
Pros
Hardcore security protocols
No history log or data collection
Reliable support
45 days return policy
Cons
Minor bugs and connection issues
FAQ's
Is CyberGhost VPN trusted?
Yes, CyberGhost VPN is one of the most trusted and sought-out VPNs of all time. Their immense support and reliability have made them one of the best in the business.
Is it free?
No, CyberGhost VPN is not a free application. It's a premium application that costs $12.99 per month if you go for a monthly subscription.
Is CyberGhost VPN better than NordVPN?
While CyberGhost VPN is good in many categories, NordVPN is still better in value. You get stable download speeds, better server locations, and more flexibility.
Is CyberGhost VPN good?
Yes, CyberGhost VPN is definitely one of the best VPNs right now. It has all the security features at a relatively affordable price. So, you can surely check it out.
Conclusion
It's very hard to find a fully perfect VPN if you spend tons of dollars. However, CyberGhost does sit light on your wallet while offering some of the best features available. Because of that, it's really easy to recommend this application to anyone.
So, try out the CyberGhost VPN and even if you don't like that, there's always the option to revert!
CyberGhost VPN 8.2.4.7664
119 KB
Apps Informations
---
App Name
CyberGhost VPN
File Name
cgsetup_en_Dzk658wLdFbRXMJFStUx.exe
File Size
119 KB
VirusTotal Hash Code
654a286d076e81869399959d8700c68883300e07ef5f8ad7ef4f38ee15b02221
VirusTotal Scan Report
Operating System
Vista / Windows XP / Windows 7 / Windows 8 / Windows 10 / Windows 11
Date Published
20, September 2022
Date Modified
12, June 2023
Category
License
Trial
Publisher
Alternatives of CyberGhost VPN
Comments
Let us know about your thoughts