Easy-Hide-IP 5.1.1.2
(55 votes, average: 5 out of 5, rated)
Easy-Hide-IP 5.1.1.2 Download for Windows 11, 10, 8, 7 (64 or 32) bit PC. Free download the latest version 2023 of the software from NearFile.
Technical Details
App Information
File Name
easy-hide-ip-vpn-4.17.exe
VirusTotal Hash Code
ee84e8f268ebfcbbf15f2dffa4c50d71e15a2677f91eef305a9d97c022b91ca1
Operating System
Vista / Windows XP / Windows 7 / Windows 8 / Windows 10 / Windows 11
Date Published
06, July 2021
Date Modified
05, June 2023
About
Easy-Hide-IP free download for PC Windows (10/8/7/11)
Easy Hide IP for Windows is a free network utility that will hide your unique internet address from online tracking so you can surf in complete privacy. Your internet traffic will be securely routed through the servers by using high-security BlowFish encryption. It will protect your identity by changing your real IP address & location with a new one.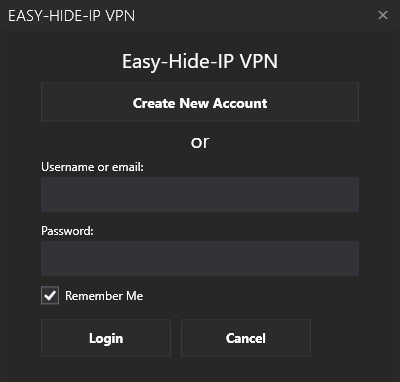 Features
Unique IP Address
This software will give you an IP address which is a small number that will uniquely identify you to the world. Then you can use this number when it is needed to directly link you or your home address to anything that you've done on the internet to improve internet privacy & security.
Access Restricted Website
You can get access to some websites that are restricted within your geographical location. With this software, all of your internet connections will appear to be coming from the remote computer, not from your own computer. You can also watch geographically restricted TV programs.
Tabbed interface
Tabs can access servers, connections & the privacy log for super-efficient operations. The buttons will let us randomize & change connections at regular intervals. You can also include apps & exclude internet domains from traffic redirection.
Privacy
The Easy Hide IP is software that is intended solely to protect your privacy & should never be used to hide your identity for illegal or unethical activity. There is an end-user license that makes it clear.
Auto set-up
You can set this software to automatically change your IP address after a fixed time interval.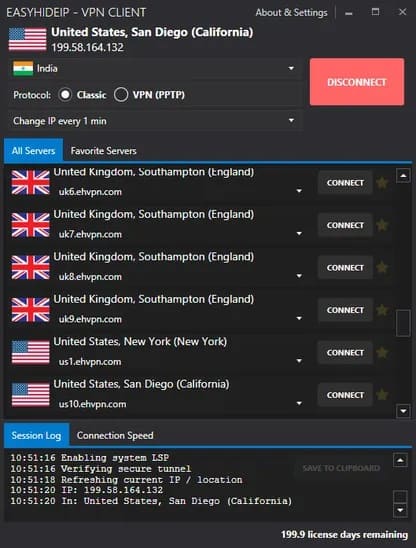 Is Easy Hide IP for Windows safe?
– It is a completely safe program. It is safe to use this because this software is aimed to provide the best quality privacy & security services to every internet user.
Pros & Cons of Easy Hide IP For Windows
Pros
Easy to use.
It can block and hide your real IP address.
Fast VPN provider.
You can use your favorite IP as you want.
It supports the PPTP protocol.
You can use several server locations.
Email support.
It can provide a data rate of about 10 mb/s.
Provides high rate security.
It has a user-friendly interface.
It will include help files.
Cons
Changing your network configuration may harm your system.
Nag screen.
Disguising the IP address is one of the most effective ways to protect your personal information. Easy Hide IP will provide you with a great way to remain anonymous while browsing the web. It is easy to use for both novices and professionals. So you can use this tool to protect your privacy.
Alternatives
Also, check the alternatives of Easy-Hide-IP
Comments
Let us know about your thoughts