PureVPN 9.6.0.0
PureVPN 9.6.0.0 Download for Windows 11, 10, 8, 7 (64 or 32) bit PC. Free download the latest version 2023 of the software from NearFile.
Technical Details
App Informations
File Name
purevpn_setup.exe
Operating System
Windows 7 / Windows 8 / Windows 10 / Windows 11
Date Published
27, July 2022
Date Modified
23, October 2022
License
Commercial Purchase
About
PureVPN free download for PC Windows (10/8/7/11)
VPNs are definitely marvelous for daily use. However, not all VPNs can offer that easy-to-use functionality to ease up your life. That's why it's important to try out VPNs before you can truly commit.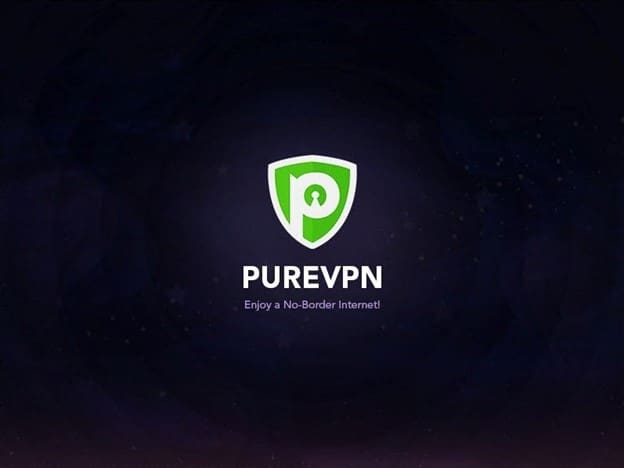 PureVPN is such a VPN that you can put your trust in. It's very simple to use and has 6500+ servers in 78 countries. Apart from that, you can browse anonymously, access blocked websites, and many more with this VPN!
Features
Well, how can you tell if a program is worth it or not? By looking at the features that it offers. So, let's check out some of the amazing features.
Anonymous Browsing
If you don't know about anonymous browsing, then you're definitely missing out in life. Not only does this feature allow you to be completely anonymous, but it also masks your identity to prevent any security breaches. By doing that, your online footprint becomes totally risk-free.
Dive Into Blocked Websites
Can't access some important websites because of regional or corporate restrictions? Well, PureVPN can bypass any restrictions to access every single website you want to.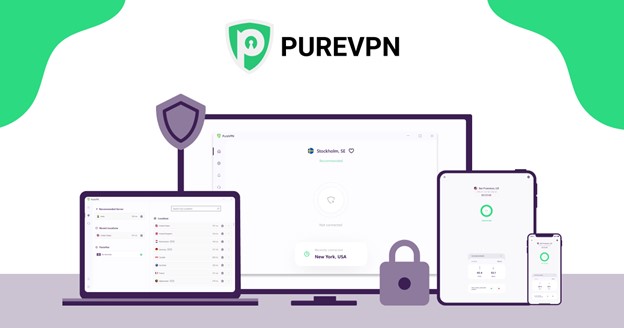 Secure Wi-Fi
With PureVPN's pro features like kill switch and DNS protection, you can get secure Wi-Fi. Your typical IPv4 internet connection will get a bump in protection with PureVPN's IP leak detection and prevention functions.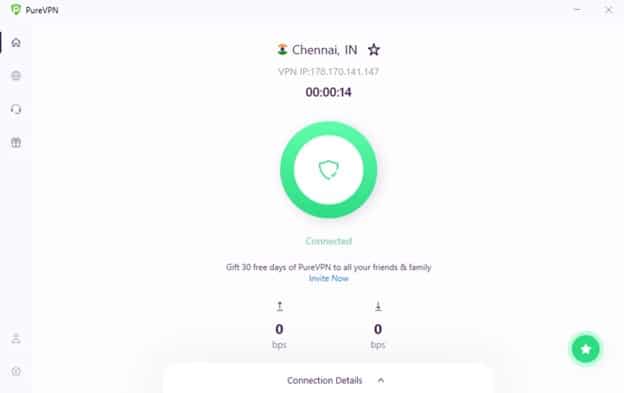 DNS & IPV6 Leak Protection
With the advanced IPV6 and DNS protection, you're safer than anything on the web. Your IP won't get exposed to any websites and you can maintain your online presence any way you want. Only the highest possible encryption algorithm for you. Nothing less.
Instant Kill Switch
As the name suggests, the kill switch literally is a functional switch that kills all your internet connections without a moment's delay. However, it can only be activated when your VPN gets disconnected. If you're connected to a secure server then no need for you to worry.
24/7 User Support
Do you know what makes a program truly great? The support from its community and developer. And PureVPN delivers heavily on that aspect. You can get prompt services any time of the day.
P2P VPN
Peer-to-peer action lets you use the secure connection between any computers or devices to transfer files or documents safely. You won't have to sacrifice your internet speed or security protocol at all. This VPN allows you to enjoy everything without any compromise.
Pricing
This VPN mainly offers three packages for different groups of people. For those who just want to check the VPN out, there's a monthly package that costs $10.95/mo. This package is a bit pricey to be completely honest.
However, if you want to go for the annual subscription, then it'll cost you only $3.24/mo which is a stellar deal. But that's not all because there's a better deal.
If you go for the 2 years subscription, then you only have to pay $1.99/mo. On top of that, you get 3 months of free subscription.
Pros
Very simple and easy to use
Advanced IP encryption
Excellent security features
Available in almost 80 countries
Decent pricing
Cons
Limited 31 days money return policy
FAQ's about PureVPN
Is PureVPN a good VPN?
PureVPN is definitely a good VPN without any doubt. It has all the security and safety features that you'll need to stay anonymous and protected.
Is it free?
Unfortunately, PureVPN is not a free VPN. It'll cost you $10.95 per month. However, if you don't like the application, you can avail the return policy to get your money back.
Is PureVPN a Chinese company?
No, PureVPN is based in Hong Kong and they offer their main service from there. They have their regional offices in other countries.
Is NordVPN better than PureVPN?
Yes, if you're looking for something better, NordVPN will be a better choice. While the cost will be a bit higher, you'll get better connection speed and services.
Why is PureVPN so slow?
PureVPN is slow because they don't have the best servers to deliver higher connection speed or bandwidth. However, their service is good enough for most users.
Endnote
In the end, it all depends on your decision whether you want to use PureVPN or not. In our limited experience, we were happy with its service. Although it has some connection problems at times, it's not a major deal breaker.
So, if you want to try out a decent VPN at an affordable price, you can download this VPN software.
Alternatives
Also, check the alternatives of PureVPN
Comments
Let us know about your thoughts