ShareKaro 2.1.39
(59 votes, average: 3.67 out of 5, rated)
ShareKaro free download for PC Windows (10/8/7/11)
Fast file transfer can save a lot of time and even your reputation in some situations. However, if you don't have a good file transfer application with you, then it becomes quite tough to handle the situation. On such occasions, Share Karo can be your savior! Share Karo is an all-in-one file transfer platform for all your devices.
Features
Want to know about what the Sharekaro app offers? Here are the features you want to read about-
Fast File Transfer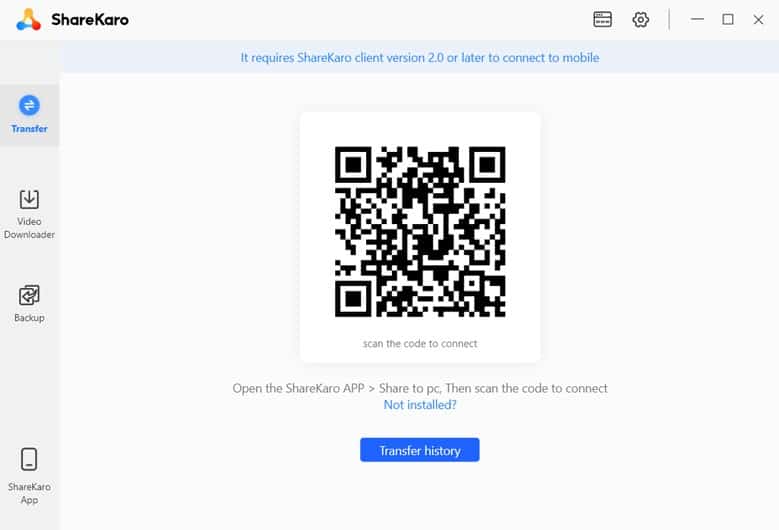 We know how irritating it is when you want to transfer your files fast, but your app is just not good enough. With Sharekaro, you won't need to worry about speed at all. Its lightning-fast 480MBps speed is more than enough to transfer your files to another device within seconds!
No Internet, No Worry!
Worried whether the app uses the internet to share your data with another device? It does not need even a moment of internet connection to share your files. So, you can select your files and send them to your second device without thinking about Wi-FI or mobile data. However, you do need to connect your device with another one before you can share.
Share Carefree
Laptop, desktop, Android, or iOS – you don't have to fret about the support with these devices. Because Sharekaro supports every platform you'll need. So, you can share files from one Android device to a PC. Even from your Android device to your iOS device as well.
Video Downloader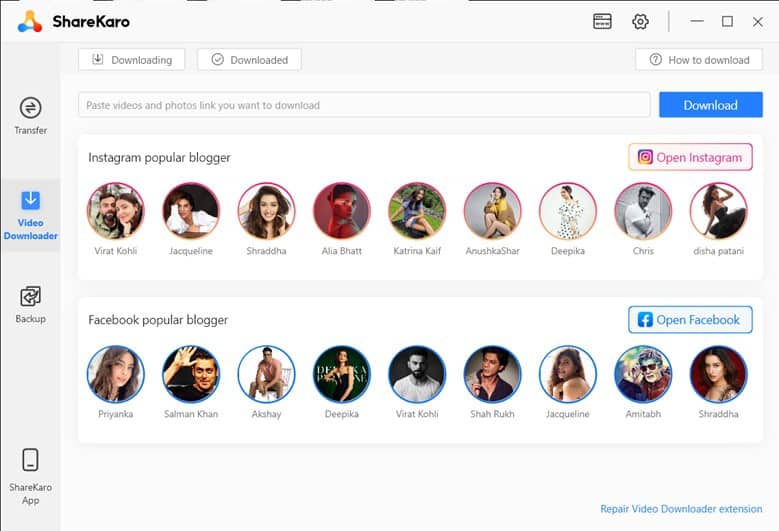 The most interesting part of this FTP app is that it has a dedicated video downloader. You can browse through multiple sites and star profiles from the app itself. As it's an Indian app, the page hosts many Bollywood celebrities' Instagram pages. You can browse and download any video you like.
Backup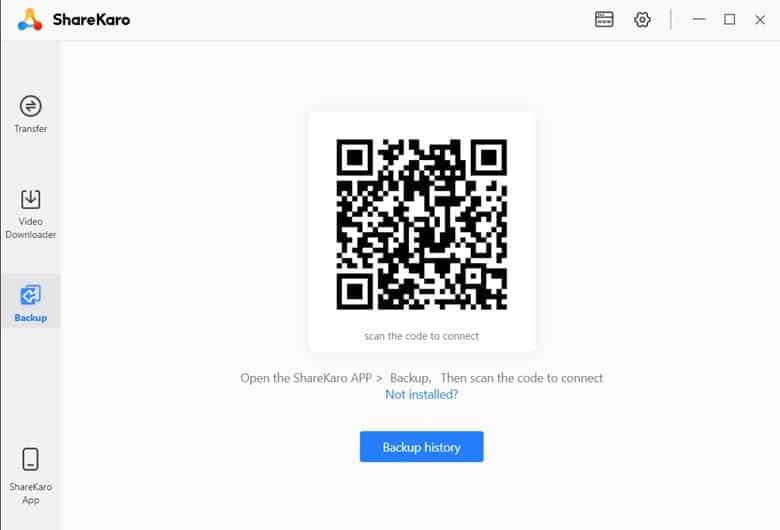 You can back up your crucial files with this app. Connect your mobile device to your PC and then press the backup button. The app will automatically create a backup of your files and store them on the computer. So, even if you lose all of your data from your phone, you can just get it back from your PC.
How to Install ShareKaro on Your PC
Feeling lost after downloading the installation file? You don't have to with this very easy-to-understand installation guide-
Step 1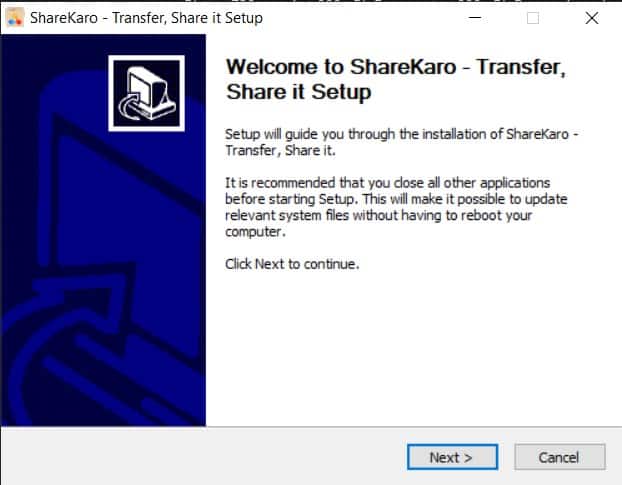 Click on the executable file and an installation wizard will show up.
Step 2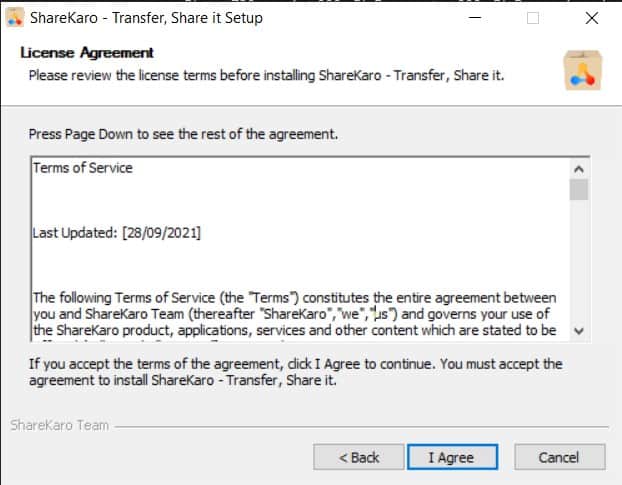 Click next and go through the license agreement. Press on the Next button when you're done.
Step 3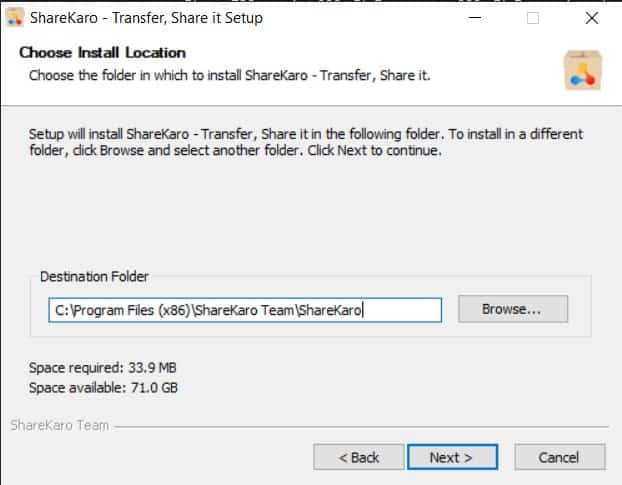 Select the installation location for the file.
Step 4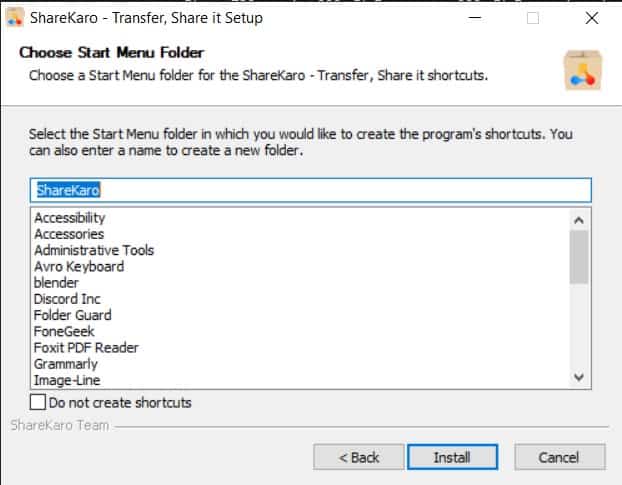 If you want to create a shortcut menu folder, then select a folder. Or else, tick the don't create shortcut menu box. Click install.
Step 5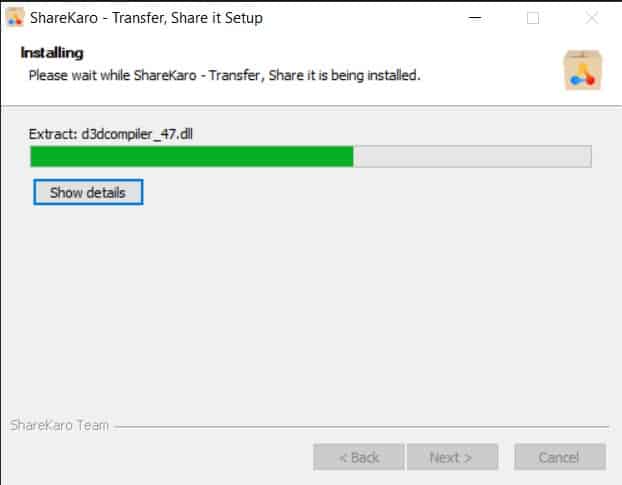 Wait for the installation to end and you have the file ready to open!
Pros
Fast file transfer
Dedicated video downloader
Lightweight size
Free of cost
Cons
FAQ's on ShareKaro
Is ShareKaro Available on Android?
Yes, you can get the Android version of the ShareKaro app easily without any extra cost. Just go to your play store and search the app. Once you have that, download, install, and enjoy the fastest file-sharing! 
Is ShareKaro an Indian Program?
Yes, the Sharekaro app is made by Indian developers. It's the first of its kind from any Indian team of developers. Many compare it to Shareit by saying it's the Indian version of Shareit.
Is ShareKaro Reliable?
Sharekaro is definitely reliable and safe for your PC and mobile devices. You don't need to worry about internet connection or security breaches with this application. The app offers good support for all the platforms.
How Can I Download the Application on My PC?
You can download the file-sharing program by clicking on the download button at top of the page. After you get to the redirected page, click again to start the download. Then, the file will automatically start downloading.
Conclusion
Being the first application from an Indian developer team, ShareKaro has made tremendous progress over the years. It has not only stabilized the transfer protocol but also strengthened the security aspects. So, do you suggest the application?
Well, absolutely because the application is very reliable and powerful. If you don't mind the occasional hiccups, then it can definitely be the ideal choice for everyday file transfers from one device to another!
Apps Informations
---
App Name
ShareKaro
File Name
sharekaro-setup.exe
File Size
11.5 MB
VirusTotal Hash Code
6dcac6704945ea438ea25e5e3b2c6858d7abdfb8e28aa388594585d88c3b3243
VirusTotal Scan Report
Operating System
Windows 7 / Windows 8 / Windows 10 / Windows 11
Date Published
14, June 2022
Date Modified
17, October 2022
Category
License
Free
Publisher
Alternatives of ShareKaro
Comments
Let us know about your thoughts