WeMod 8.3.15
(99 votes, average: 4.87 out of 5, rated)
WeMod 8.3.15 Download for Windows 11, 10, 8, 7 (64 or 32) bit PC. Free download the latest version 2023 of the software from NearFile.
Technical Details
App Information
About
WeMod free download for PC Windows (10/8/7/11)
WeMod is an all-in-one platform to manage and organize all of your PC games in one place. It is completely free to use and users can enjoy different games without installing multiple launchers or game engines.
This open platform has thousands of games, free mods, and trainers that you can access anytime. And the best part about the application is that users can customize their game libraries without holding back! Even the installation process is quick and convenient.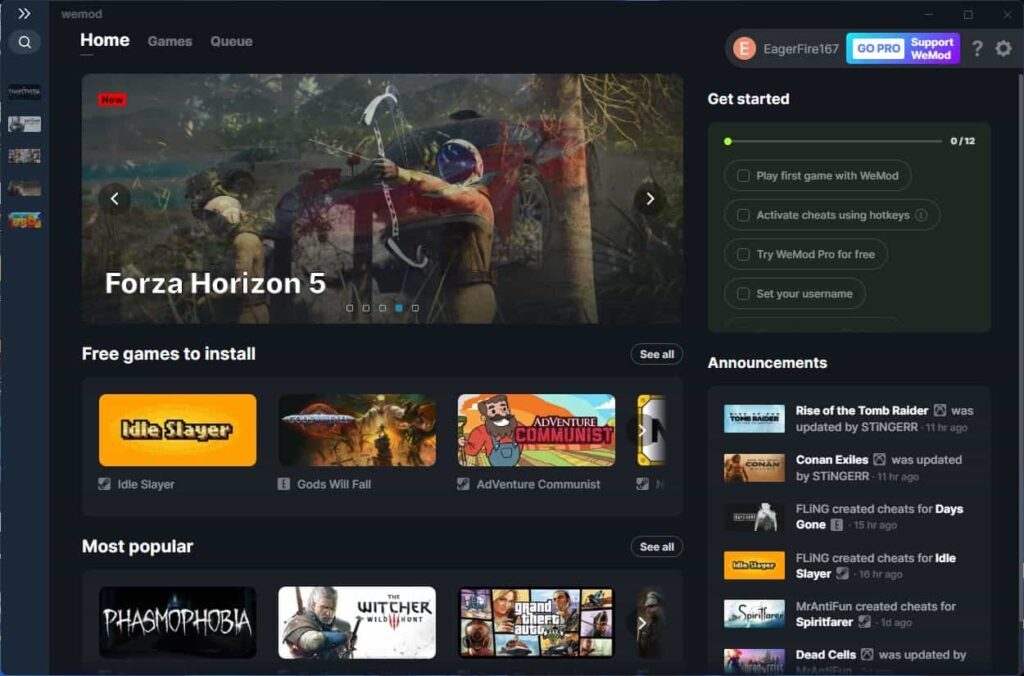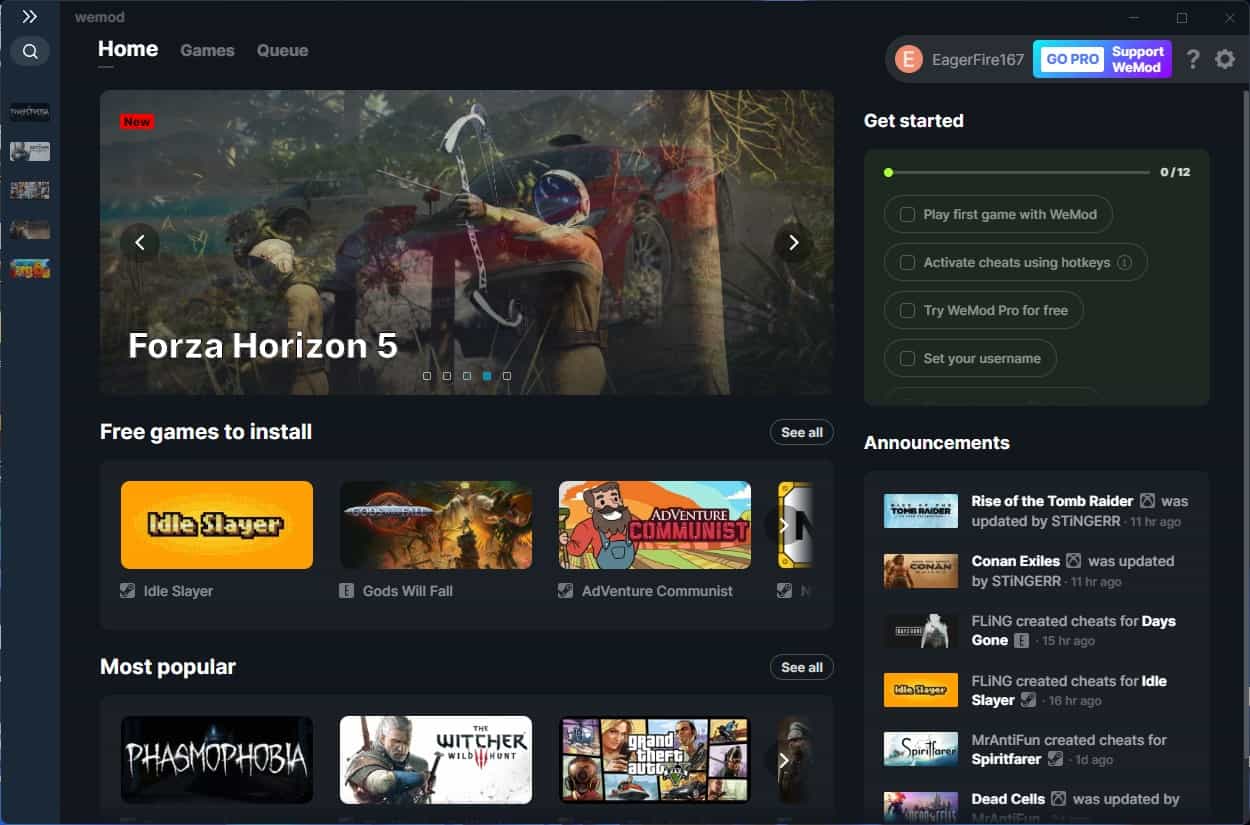 Starting as a platform for game-related chats, it is now a name for the software all gamers love. The app contains mods for famous games like The Witcher and GTA.
If you are playing such a game, then you should try the app to integrate mods and cheats with your games.
Getting Started with WeMod
Itching to get onto the incredible WeMod platform? First, you need to create a WeMod account if you want to continue further as WeMod users need to have a unique ID to use the services. Here are the steps to create your WeMod account-
Step 1: First, go to https://www.wemod.com/join page.
Step 2: Enter your username, email, and password. Hit the Register button.
Step 3: You've successfully created a WeMod account.
Now, the downloading and installing process of the WeMod application itself. Here is the full process in all details.
Step 1: Click on the download button you can see on this page.
Step 2: Wait for the download page to load and again press the download button.
Step 3: The download will start automatically. Wait for the download to finish and go to the file location and look for the WeMod installer.
Step 4: Open the installer and accept the terms and conditions.
Step 5: Press install and you're done!
Finding and Installing Mods
In the latest update of WeMod, players don't even have to install or download different mods. If you already have the main game file linked to your WeMod account then the modding process is very simple. Here is the proper way to start the WeMod journey on your Windows PC-
First, go to the My Games section after launching the WeMod application.
Then. Select the game you want to play and make sure to choose the Launch with mods.
After that, select the mods you want to use from the mod list. You can also view the mod version's history from the History tab.
When you're done selecting the mods, just launch the game you're done!
Using Mods
Once you launch the WeMod application, it's natural to get overwhelmed by the astounding features. But as you want to play your favorite games with mods, you need to be careful about certain things. Check if the mods are stable and updated.
Go through the community page to know if the mods are safe to run. And above all, make sure you're on single-player when you're using the mods in your installed games.
Features
Quick Setup
You just need 5 to 10 minutes to set up the small software on the PC. The installation setup is less than 300KB while the installation main file is around 85 MB. So, the whole process takes less than 5-10 minutes actually and you can just install and run any game.
Automatic Detection
It can detect games automatically on your PC. You can just download it and find your already installed games integrated with the software. From there, you can control the cheats easily.
Large Collection
The software has a large collection of single-player games to mod. Most of the top-rated games are already in the system. So, it gives you an opportunity to expand the gaming experiences to another level.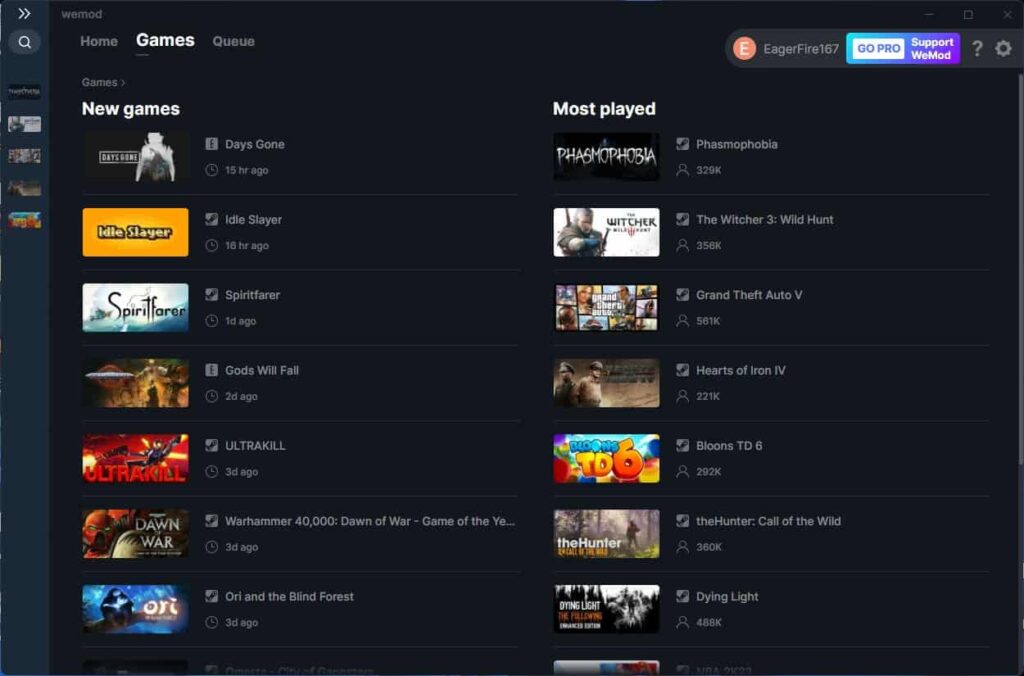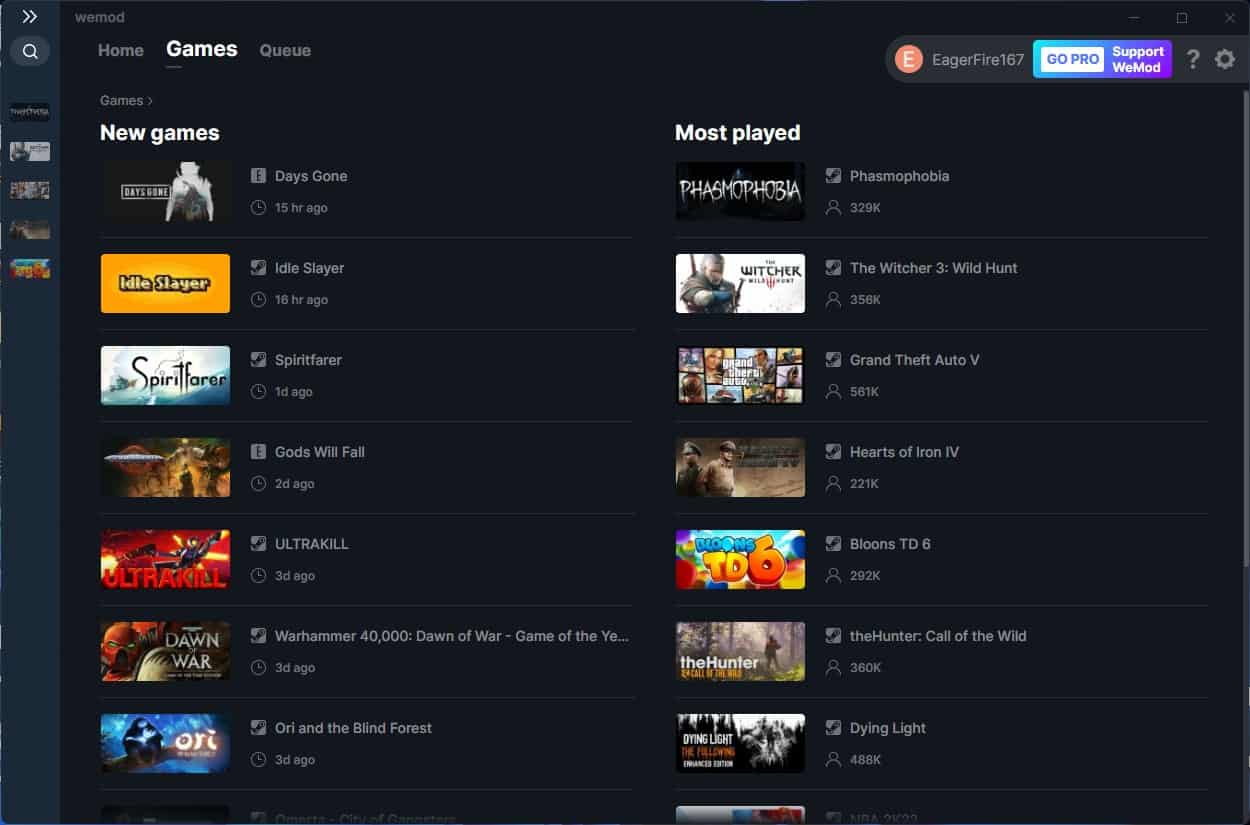 Highly Compatible to Windows PCs
Although WeMod is not yet available for Linux or Mac OS, it can be integrated almost with all Windows operating systems. You can just download and run it on your Windows PC.
Right now, you can also have control from your smartphone over this tool.
Minimal System Requirements
The system requirements for running this app are seriously low. You just need a PC that is able to cope with hardware acceleration. To run it, you will need just Net Framework 4.7, 4.8, or above in your Operating System.
Easy control
The software is just like plug-and-play. You can just install it and control the cheats and mods without any hassle.
Free Software
WeMod consists of many game mods and cheats but still, it is totally free software to use. With this software, you can do anything you like without thinking twice.
Trainer Usage
You can use many different trainers for many games perfectly with this software. This is very comforting for the players.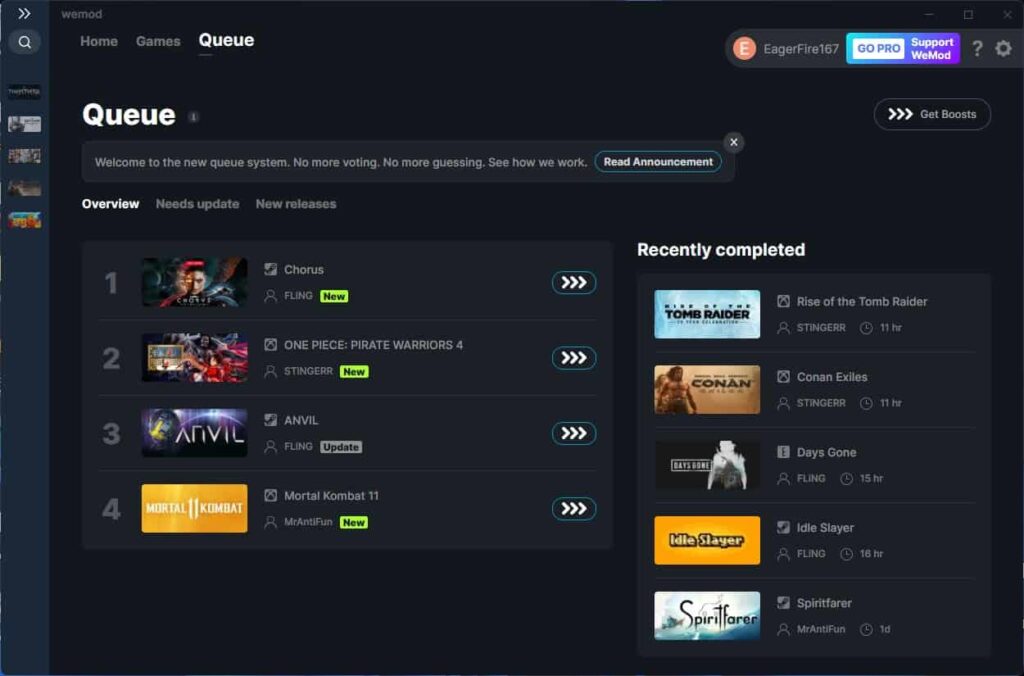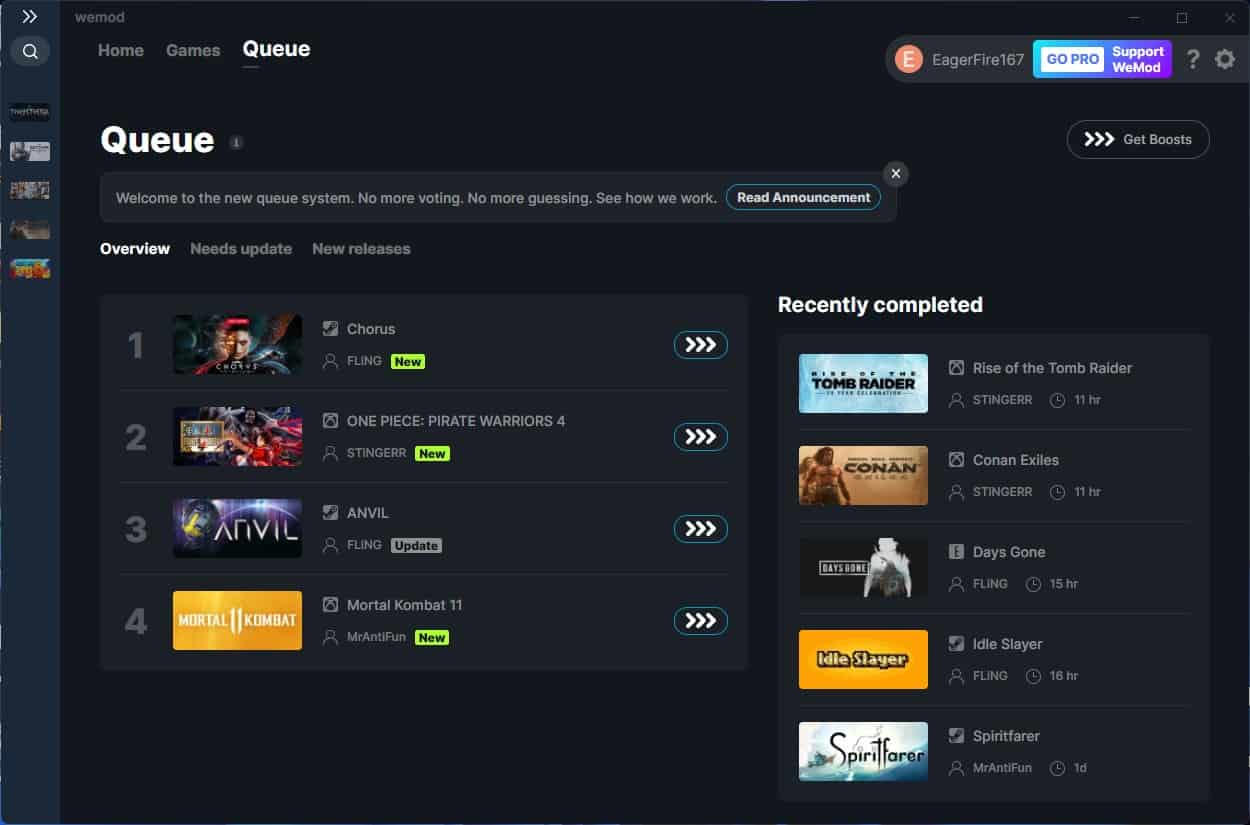 Community Features
WeMod is great for any gamer because it has a mind-blowing community and user base. Once you open the application, you'll notice the friendliest where you can connect with other gamers easily. Moreover, the forums are quite rich with resources that can help you with any current or unreleased games. And when you see the 4.9/5 ratings on Trustpilot, you already know that WeMod is one of the best trainers out there.
What's more amazing than the already polished features of WeMod? The ability to use the above features to quickly connect with gamers, instructors, and developers to get your answers about anything. The community is always there to introduce you to new mods, trainers, and much more!
Pros
Highly compatible with your Windows PC
You can play most of the top-rated games' mods with this simple software
The software is light. The setup file is only 85 MB
The interface is specially made for gamers with lots of controls
Play games like the Witcher, GTA, and Cyberpunk 2077 with this mod integrator
Easy control from the mobile phone
It can detect games on the system automatically and integrate the mods with them
Ultimate modding experience
In-game overlay for better viewing
Automatic game detection
Free to download
Cons
FAQ's
Can you get banned for using WeMod?
Game cheats are already integrated in the system of the game. You don't need to think twice before using cheats in a game. If the main file of the games' programs did not have the cheat data, you probably could not do it already.
Is WeMod spyware?
WeMod is not spyware. It is a tested and freely distributed freeware software. Games should download it from a trusted source only to get a good working file of the latest version.
Is WeMod a cheater?
You can use WeMod to use the gaming cheats in all the games available. The cheats are safe and you will not face any kind of problems while using them. So, you do not need to get scared about this app.
Is WeMod a virus?
WeMod is not a virus. Many gamers tested it before using it in the market. So, you do not need to get concerned about it being a virus. It is completely safe to use. But you must obtain it from a trusted source.
Our Usage
WeMod is software made to have more fun with your games. You can use the software for integration with the new games. We run the software and had a marvelous working interface. The games it is compatible with are very popular and fun.
Conclusion
WeMod is one of the most elegant and resourceful programs when it comes to gaming on one single platform. It's fast, customizable, and free. You can just log in to this one application and play almost every triple-A title available.
So, just stop thinking and download WeMod now!
Alternatives
Also, check the alternatives of WeMod
Comments
Let us know about your thoughts